By Jennifer Black 4 Dec 2019
Congratulations to newly-crowned wakeboarding world champion, Charlotte Broadbent CPEng IntPE(NZ), who recently won the women's over 40 category in Dubai.
After graduating, Charlotte Broadbent CMEngNZ CPEng entered the consulting world but had several job changes early on, leaving two companies due to sexual harassment, which was "pretty tough as a young graduate". Disillusioned about her career choice, she then joined MWH and enjoyed a supportive environment and great colleagues, developing her skills in hydraulics and hydraulic modelling. After travelling and working overseas, she started her own company in 2006, providing hydrologic and hydraulic modelling and infrastructure planning services for water, wastewater and stormwater. Charlotte spoke to EG before heading to Abu Dhabi to compete in the IWWF World Wakeboard Championships.
When did you become interested in wakeboarding? 
I first tried it in 2000 with friends I'd met through snowboarding. I loved it! However, without access to a boat I was unable to get involved in the sport until 2006. 
What do you love about it and where has it taken you? 
Being on the water has a calming effect for me – I love the feeling of contentment, the peace and feeling the water spraying your legs. Water sports dominates any planned travel – sightseeing is by the next cable park, kiteboarding spot or surf break, from the Dominican Republic to Namibia, Australia and the Pacific Islands.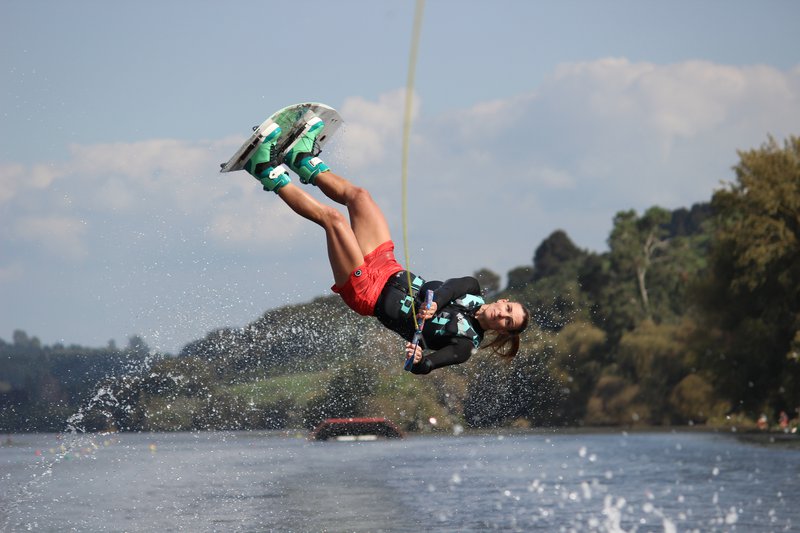 Does engineering come into wakeboarding? 
It certainly does, especially in terms of the boats. Hull design for the shape of the wake; various moveable plate designs to change the shape and how water is deflected and assisting the boat getting onto plane; speed and control systems within the boats. Also, ballast systems, where water is pumped into tanks within the hull to weigh down the boat and create a larger wake. 
How much time do you devote to the sport each week? 
Working in Auckland, and with a young family, I only manage to get on the water about once a week. I include strength and cardio work three to four times a week.
How do you juggle training and competing with work and family life? 
It is a struggle for sure – I'm not really sure how it comes together each day or week!
Tell us about your family's involvement with wakeboarding and water sports. 
My husband Gavin grew up water skiing before crossing into wakeboarding, and has enjoyed numerous national and world titles in both sports. He also holds the New Zealand speed sailing record over a 500m distance. Our eldest son has now also taken to the water, competing in wakeboarding for the first time last year. 
This is your second time competing at an elite level, after having children. What are the biggest differences?
This will be the first time travelling to an international event – I've been selected before, but was unable to attend. It's definitely a lot harder with kids. You simply don't have as much time, which limits training, and the amount of effort to get the family out on the boat is phenomenal. There's no "grab a muesli bar and go"! 
What keeps you going when training and competing get tough? 
I think staying as active as you can and doing at least some things you love is simply the best thing you can do for your mental health in a busy, demanding life. 
Hazarding a guess, what percentage of your life has been spent on water?
I grew up sailing and I'm a kiteboarder and stand up paddleboarder. Of my waking life? Probably a good 10 percent or more.
You're keen to break down barriers to girls entering the sport, what can you do? 
We're trying to organise more women's ride days for those interested in competing, providing coaching and guidance for putting together a competition run. One barrier is the boat itself: owning one, backing a trailer, driving the boat on and off. Then on the water, a feeling like you don't want to waste anyone's time when all the guys want to ride and you don't feel your skill level is there. 
What's your favourite trick on the water?
Indy Toeside Front Roll (front flip with hand grabbing the board between the feet).
---
This article orginally appeared in the December 2019 issue of
EG magazine
.