By Engineering New Zealand 9 Jun 2022
In 2021, Robert Bird completed the structural and civil engineering of a pilot project which was featured at the United Nations Climate Change Conference (COP26). Learn more about the project and their success on the global stage.
Can you please tell us about this pilot?
Ngā Kāinga Anamata is a sustainability-innovation public housing pilot project by Kāinga Ora. The project is aimed at driving carbon emission reduction in New Zealand's construction industry. The project was gifted its name, meaning 'homes of the future' to reflect its aspiration of building tomorrow's houses today, while maintaining a cultural lens and links to core Māori values.
The core focus of Ngā Kāinga Anamata is to achieve the Government's 2030 carbon emission targets by 2024, sharing insights and influencing change in New Zealand's built environment.
The project will deliver 30 new homes within five, three-level apartment buildings in Auckland's Glendowie. Each near identical building will use a different construction technology, enabling sustainability insights to be gathered on a range of building materials and systems. The main structural material for each of the five buildings were crosslaminated timber (CLT), light timber framing (LTF), a CLT/LTF hybrid, precast concrete and light gauge steel.
Each building will achieve significantly reduced carbon and energy outputs, achieving both Passive House standard and net-zero energy. This has been achieved by focussing on low carbon materials, efficient operational energy solutions (e.g., heating/cooling) and renewable energy generation. Construction and monitoring of these buildings will help Kāinga Ora understand the overall cost and benefits of low-carbon public housing, and report insights back to the industry.
The Ngā Kāinga Anamata project site was originally occupied by eight old state houses, which will be replaced by a total of 40 new homes. In addition to the 30 Ngā Kāinga Anamata homes, there will be eight three-bedroom apartments in another three-level walkup building, and two townhouses.
How did you ensure sustainability and adapting to future climate change were central to the design of the project?
The need for urgent global transformation in the built environment has been highlighted in both the recent IPCC report and COP26. In New Zealand, delivery of this project is important for driving change in our construction industry, as it provides a built demonstration of high performing and low-carbon buildings. The Passive House approach was adopted as it provides a tried and tested framework for achieving low embodied and operational carbon, and the targets set by the Ministry of Business, Innovation and Employment 'Building for climate change' programme. Design collaboration was key to incorporating the Passive House approach and we achieved this through working closely with the design team, including Context Architects and Aurecon.
As structural and civil engineers, we're responsible for a large chunk of the materials which go into any project, so our main influence is usually on the embodied carbon of the buildings. For each of the five buildings we influenced the brief to ensure efficient structural layouts (i.e., minimising the amount of structural material) and specified low carbon materials or substitutions, where available in the New Zealand market.
Our design also focused on structural detailing to increase operational efficiency. This included a design of structural thermal breaks for items such as balconies (to reduce heat transfer through thermal bridging between inside and outside) and structural detailing of the walls and roof to be compatible with the Passive House requirements, quite different to current practice approach in New Zealand.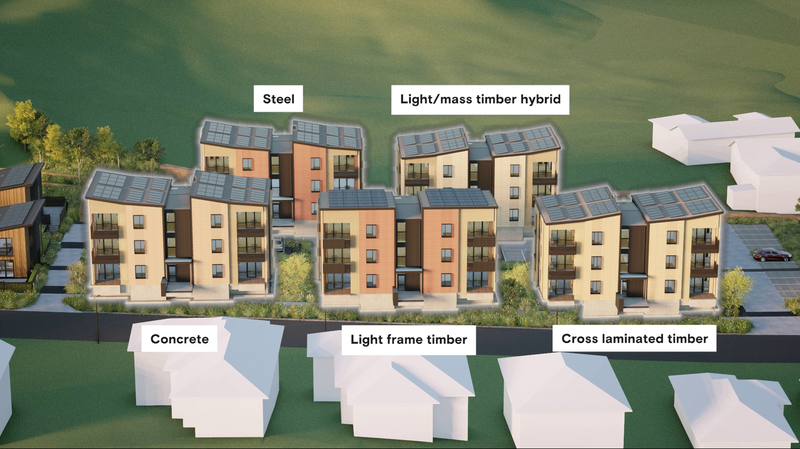 How did you ensure you had diversity of thought from other project team participants throughout the pilot?
The project combined both an ambitious purpose and the complexity of non-standard detailing across 5 different structural forms. In response to this we planned the project in a way which utilised the knowledge and experience of our wider team, across both Auckland and Wellington offices. This included several internal review and workshop sessions to flush out ideas and innovations to incorporate into the project. This was a very rewarding process for our team and led to the development of new skills, design tools and a level of shared knowledge we hadn't envisaged at the start of the process.
We also worked alongside contractors and suppliers of each of the five different structural forms to develop the design. This was carried out in a series of workshops and technical review sessions. The practical experience and knowledge sharing of this process was crucial to the success of the project.
What were the challenges of working on the pilot during COVID-19?
Overall, it wasn't too bad for the project. Lockdowns put a temporary pause on our design team workshops however the design process was just as efficient through video calls and meetings.
How did your team feel when they found out that their work would be presented at COP26?
Ecstatic. We're incredibly proud to be part of this amazing project.
What new skills and knowledge did your team gain from being part of the project?
So many we've lost count! Overall, we learnt that the New Zealand supply chain can deliver low-carbon, warm, dry and healthy homes right now. Along the way we developed new design skills and tools to assess the environmental impact of our designs. We also learnt a lot about the Passive House approach, and the environmental impact of New Zealand construction materials and how this can be mitigated through design.