By Alexandra Johnson 11 Sep 2022
He has spent decades developing world-leading environmental innovations that marry modern science with indigenous knowledge, but the achievement that makes this engineer most proud is closer to home.
Dr Kēpa Morgan FEngNZ (Ngāti Pikiao of Te Arawa) lives in an idyllic sustainable village at Whenuakura, Rotoiti. It features no-maintenance roads that eliminate stormwater, low-impact water use and houses created from sustainable materials. While that might not be so extraordinary now, Kēpa designed this multi-house development for his whānau in the 1980s, when the concept of sustainability was almost unknown, particularly in engineering and construction. But this ardent environmentalist, mana motuhake (self-determination) advocate, academic and civil engineer has run ahead of the pack his entire career. He's spent decades developing world-leading environmental innovations that marry modern science with indigenous knowledge, a practice the world is only now properly catching up with.
Kēpa was the first person in his whānau to attend university.
"I was going to leave school early and become a mechanic, but my father said one night at the dinner table, if you want to leave school, you can leave home. He basically meant, put your fork down and go," Kēpa laughs.
So, on he stayed, furthering his education until he completed a Bachelor of Engineering (Civil) at the University of Auckland in 1985.
Kēpa says his university days were not easy and he was the only Māori student in a faculty renowned for its blatant racism. "I didn't spend a lot of time there, the material was entirely monocultural, a total denial of my existence."
A successful 30-year career in civil engineering followed, which included the development of combining rammed earth technology with harakeke (flax fibre), and integrating mātauranga Māori with science and engineering, to create low-cost, earthquake-resistant housing solutions.
But when the engineering faculty at the University of Auckland was subject to a critical external audit, the then Dean invited him back to make the faculty more inclusive and encourage Māori and Pasifika students to enrol and succeed.
Before the academic year began, Kēpa says they would take the new students to a marae and "turn their world upside down". They'd be welcomed solely in te reo Māori and given a university-level maths test.
"We'd break them, it doesn't take long," he says.
"Then we'd bring in the senior students and say, so you might not be feeling up for this, but you listen to them because they know how to survive. Then we played rugby, paddled waka, and built relationships around every single student. At the end of the stay we would say, look around, if any one of you fails, we all fail."
For the following decade, Kēpa used this collaborative and supportive approach to facilitate significant Māori student improvements in academic performance to become the highest performing cohort at the university for two years running, until his programme was dismantled.
Once back within the university, however, Kēpa became an academic, researcher and lecturer, and most significantly, for his doctorate and in response to declining water quality of the Waiariki (Rotorua) district lakes, he created the Mauri Model Decision Making Framework, an innovative decision-making tool. The model considers a range of worldviews, from mātauranga Māori to engineering and science, and uses the concept of mauri (lifeforce) as the measure of sustainability, observing the four dimensions of environmental, cultural, social and economic wellbeing.
"Pre-colonisation Māori had a very sophisticated way of observing," explains Kēpa.
"They understood, for example, the influence of the moon, the seasons, the sun and other things, such as Matariki."
Kēpa says if you intrinsically understand what normal is, you understand what isn't.
"And it's those outliers, [or positive or negative abnormalities] that give you the opportunity to optimise your efforts. If it is positive, such as putting a rāhui on an area when fish are spawning, so you get the maximum benefit in the future, or if resources get depleted, you know you must allow it to regenerate."
The model, along with the mauri0meter, which imparts simply the complex information the model has exposed, was later used to aid environmental recovery following the shipping disaster Rena in the Bay of Plenty, and it is currently being applied to freshwater challenges and the Three Waters reform.
"Science is generally broken down into small fragments of knowledge, but with this system you put it back together so you actually know what's going on. In the case of Rena, there were multiple mauri0meters to describe the scientific impact across a range of metrics."
His company Mahi Maioro Professionals, where Kēpa is General Manager, is building interactive webpages that communicate real-time changes in bio-physical parameters, alongside mātauranga-based indicators that impact upon te mauri o te wai (lifeforce of water).
"These mauri-based ways of reporting help with meeting obligations to Te Mana o te Wai, and are relevant to the Three Waters reforms, identifying solutions that are more equitable in delivering improved wellbeing."
When asked how the engineering profession and Te Ao Rangahau can be more inclusive of Māori, Kēpa says more needs to be done at high school.
"High schools are excluding our potential leaders of tomorrow from multiple careers due to the way they are operated, particularly streaming. Look at the statistics. Māori students are not failing at school for any other reason than the teachers have too low expectations. These students have to be given a chance before they even get as far as engineering. Then, when they do get to university level, they need a process that is supportive, similar to the one we established in engineering."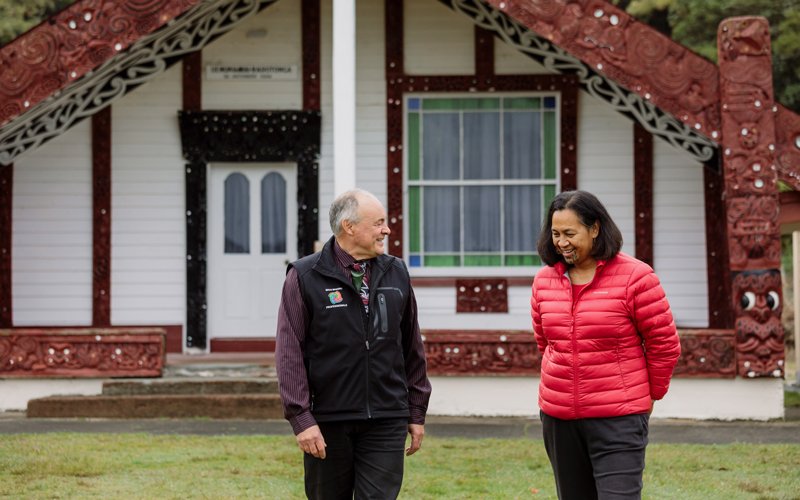 As for Kēpa's own journey, after a three-year transition from academia, via Ngāti Makino Iwi Authority, as General Manager of Mahi Maioro Professionals he's leading the development and implementation of programmes to enhance the te mauri o te wai me te whenua. He was also recently appointed to the Strategic Science Advisory Panel to bring his scientific and indigenous knowledge to the Institute of Environmental Science and Research.
Kēpa, who also speaks Hawaiian, only began learning te reo Māori when he started university, yet he relies heavily on the insights mātauranga Māori provides. A growing number of engineers are entering the profession after completing full te reo Māori schooling and he says they'll understand the world does not exist in a single way.
"They know that concepts from different cultures are only able to be discussed and fully understood in their language of origin. They understand that there are also different ways of knowing and experiencing engineering outcomes.
He adds: "Being able to think about problems differently leads to innovation and often the contrasting ways of knowing, of indigenous knowledge, provide a more holistic lens that reveals the real issues that need to be addressed."
Along with his array of roles, responsibilities and recognition, including winning Te Ao Rangahau's Furkert Award for Sustainability and Clean Technology in 2016, Kēpa has his sanctuary, Papakainga. He considers this sustainable village his highest achievement.
"With the guidance of my ancestors and whānau we designed a sustainable infrastructure system on our Māori land back in the 1980s, long before the well-known versions were even being thought of. The roads, the power, the stormwater solutions were designed based on the first principles of te ao Māori, our way of knowing. When you compare it with low impact development or water sensitive urban design now, 90 percent of the features are evident with what we designed here in 1988."
He says: "Haumingi papakainga was ahead of its time. It hasn't been given recognition, but that doesn't matter, it's a beautiful place to live."