By Alexandra Johnson 12 Dec 2021
Award-winning energy sector engineer Juliet Oliver MEngNZ's early career roles on oil rigs "cut a skill set" that has helped build her as a leader and a mentor.
First jobs are often highly formative and that's especially true for Todd Energy's Juliet Oliver MEngNZ. In her mid-20s, Juliet was a senior wireline field engineer for Schlumberger, working on oil rigs in the North Sea and off the coast of Australia. This involved determining whether new bore holes had struck oil or gas, "and whether they'd spent a lot of money drilling into nothing or had come up trumps".
There was a lot of pressure to perform and turn around data in a very short space of time, Juliet says. She was taken to rigs by helicopter and stayed there for weeks – or months – and, excluding the cleaners, was the only woman there. Conditions were harsh, including waves crashing over the rig and horizontal snow while working outside in the North Sea.
"It took a lot of work to earn the respect of the men, or even get them to talk to you, but that's the journey," she says.
"I would go out to the rig with about eight guys that generally I had never worked with before, but I was the lead engineer running the job and had to earn their respect instantly. That cut a skill set that has definitely served me throughout the rest of my career and built me as a leader."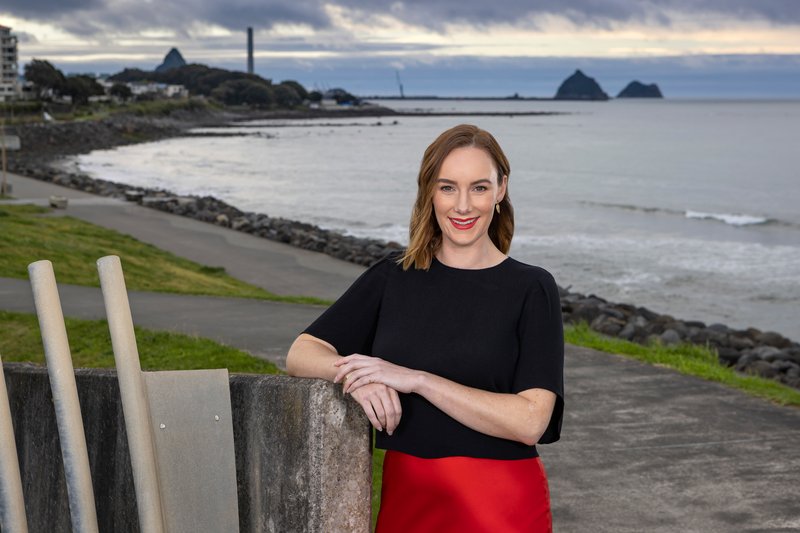 Those leadership skills contributed to the success of Juliet's more recent projects in Aotearoa's energy sector, in production optimisation and lowering the emissions of natural gas supply. It's work that's helped earn her the 2021 Young Energy Professional of the Year Award at the New Zealand Energy Excellence Awards.
"More than anything, I am primarily a leader of people, and that's a big part of why I received the award. I've been able to find a way to marry engineering and process optimisation with something that I love, leading people."
Responsible for implementing an organisation-wide project to extract more value from natural gas fields without more drilling, Juliet says the success of the initiative exceeded all expectations.
"From our well heads to our customers, the idea is you optimise every single molecule of gas – you don't want anything to go to waste. Whether that's an emission or you are using too much power or whether there's an upset in the plant, you want to eliminate all of that, every moment of every day."
She says, "Inherently, we were improving safety, reducing the environmental footprint and adding dollars to the bottom line. You end up optimising the whole system."
Through this methodology they were able to combat field decline entirely, "and add a level of value that is world class". Because of the power of integrated operations and assessing what the rest of the country is doing, such as where and when gas is needed and the reliability of it, decisions become about what is the best move for the energy portfolio of New Zealand in real time, she says.
"And that's powerful stuff, when you can actually consider far beyond your business footprint."
Juliet believes that with large-scale transition options, like the proposed hydro scheme at Lake Onslow, the private energy sector should be more incentivised to make emissions savings now. And she's thinking ahead to future fuels.
"For example, using the whole tree instead of leaving the slash on the forest floor would initiate a whole economy in itself and a means and supply of biofuel. Then you just need to get the biomass to where it is needed, which is the hardest part in New Zealand."
She says making biofuels requires similar expertise and infrastructure that is used to produce natural gas.
"There is going to be a lot of equipment sitting out there doing nothing when natural gas peters off, which holds a huge amount of value for this country."
She's a mentor for the Young Energy Professionals Network, is involved with Business Mentors New Zealand and the Young Enterprise Scheme, and is establishing a start-up.
"I am building an app for women with endometriosis, taking my journey and success with the disease and giving that back to people in a way that an engineer would: succinct, precise and easy to consume."
She's also set for a more long-term project, expecting her first child.
"I'd like other female engineers to see that you can shift the dial in the workplace and in your personal life, with start-ups, mentoring and motherhood."