By Matt Philp 12 Dec 2021
It's finally summer and time for Kiwis to catch up on some rest and recreation. But there's a lot of hard work that's taken place to create our leisure spots and activities – here's a round-up of some developments from around the country.
The Peninsula Connection, Dunedin
Portobello Road, Dunedin's link to Otago Harbour's eastern entrance, is winding and picturesque – and, until recently, perilously narrow, squeezed between hills and the harbour's edge. Cyclists took their lives in their hands, and the notion of enjoying a constitutional around the bays was pure fantasy.
The Peninsula Connection road safety project has changed all that. Jointly funded by the Dunedin City Council and Waka Kotahi, the multi-stage initiative has not only improved safety, it has connected communities and created a recreationalist's dream
of a shared harbourside pathway.
"It has totally opened up the Peninsula for walking and biking," says GHD Project Engineer Bruce Buxton, adding the project has transformed the way people based on the peninsula live by making parts of the area that were previously only accessible by vehicle, now accessible by bike or foot.
It's been quite an undertaking. The road has been widened and raised, and where widening wasn't feasible, boardwalks were installed. Retaining walls of all kinds have been built. There has been landscaping and planting, water upgrades and seating. When it proved impossible to work around one of the harbour's historic boat sheds, the team installed new piles nearby and moved it.
To achieve all this, they've had to reclaim 5–10m of harbour, a feat that involved placing by hand more than a million basalt rocks along the route.
I'm biased, but I can see the difference it's made to the community. Honestly, it's been one of the most satisfying jobs of my career – Bruce Buxton
"I've been told it's the longest hand-placed seawall in the Southern Hemisphere," says Bruce, who adds that the less sustainable alternatives were to use concrete or tanalised timber.
The project is a finalist in the IPWEA NZ Asset Management Excellence Awards, and Bruce reckons that's justified.
"I'm biased, but I can see the difference it's made to the community. Honestly, it's been one of the most satisfying jobs of my career."
Maidstone Max Adventure Playground, Upper Hutt
When the Upper Hutt City Council asked for feedback on a proposed upgrade to its dated Maidstone Max playground, the community had a bottom line: the flying fox has to stay. Months of construction and $5.2 million later, the flying fox remains, albeit refurbished and now encircled by a pump track. Elsewhere, there's a new basketball half-court, a state-of-the-art skate park, tunnels, slides and swings, a sand play area, shade structures and picnic tables, all built around a central mound topped by a wooden castle.
Designed in a way that encourages free and unstructured play, Maidstone Max Tō Tātou Papa Tākaro stands out for the way it blurs the boundaries that usually exist in playgrounds, encouraging kids of all ages and abilities to explore and investigate. This open design means that features like the skate park have been seamlessly integrated into the wider setting. Project Manager and civil engineer John Price says accessibility and inclusiveness have been encouraged through the use of ramps, interactive panels and specialist rides.
Sustainably sourced Robina timber kitset playground equipment was used (it can be recycled at the end of its life), and playtop surfacing material around the equipment is made of recycled tyre casings.
The biggest engineering challenges were civil, with the previous playground having to be cleared and lowered.
"In some areas the ground conditions included quite large boulders, which meant we had enormous holes when we put in the sail area. Generally we had a lot of trouble auguring," says John, adding they also had to meet a number of safety considerations, which were externally audited throughout the project.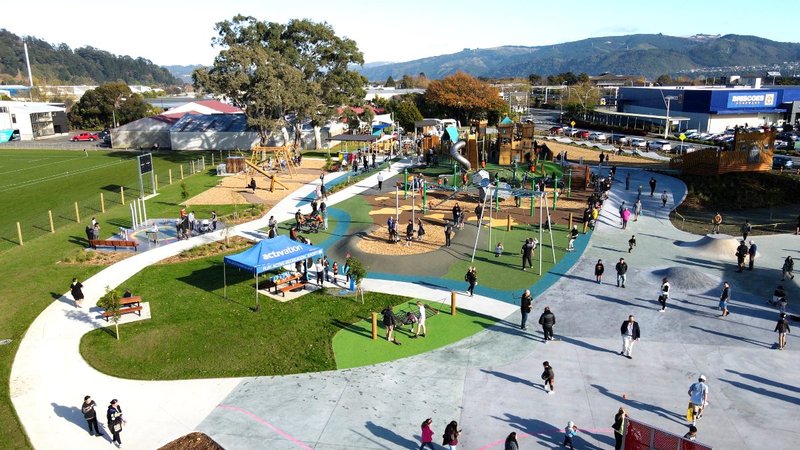 Lansdowne Park, Blenheim
The new sports hub at Blenheim's Lansdowne Park is a "good things take time" story. Mooted 10 years ago but finished late in 2021, the $4.3 million, two-storey facility brings together multiple sports codes on one site between the rugby park and netball courts. Downstairs there's a first-aid room, toilets and services spaces, as well as changing rooms designed to accommodate particular codes. For a sport such as netball, it's a major step up from temporary portable toilets, and enables the code to put on tournaments.
Visually, the most striking aspect of the building is its folded roof, with a sequence of peaks evoking Marlborough's famous Wither Hills. From the function room, you can see the range in the distance and have a bird's eye view of the sporting action on either side.
"The whole upper floor has been designed so you can view the rugby or the netball at any time," says architect Brian Riley of Nelson-based Arthouse.
In terms of engineering, the two potential challenges were a risk of liquefaction – tackled by incorporating a shallow raft foundation – and the unorthodox roof structure, which was mitigated by plenty of modelling work by the architects, engineer and steel fabricator.
Nick Meeten CMEngNZ, the mechanical engineer on the project, also cites a couple of energy efficiency moves: the hot water system uses heat pumps rather than gas or direct electricity, and the HVAC system in the function room was sized for 50 percent of anticipated peak load. For those infrequent occasions when it's packed with people, there's a carbon dioxide monitor hooked up to an alarm that signals when the doors need to be opened.
Wildwire Wanaka
It's the winner of a 2021 Qualmark 100% Pure New Zealand Experience Award, but the fallout from Covid-19 hasn't spared Wildwire Wanaka. However, Mark Morrison, owner and founder of the attraction billed as "the world's highest waterfall cable climb", says the pandemic has provided space to rethink the tourism model. He intends to follow a regenerative approach, with an emphasis on tourists giving back to the local community.
"We're about to launch a couple of new products, with part of the fee going to planting natives and trapping pests."
The core product, as such, is a waterfall climb. In 2007, mountaineer Mark had "a crazy idea". In Europe, he'd come across what the Italians call via ferrata, or iron paths – permanent climbing routes of cables, suspension bridges and ladders that date back to World War I, when Italian and Austro-Hungarian forces fought to control the high ground of the rugged Dolomites. Looking across at the Twin Falls, waterfalls west of Wanaka, Mark imagined a via ferrata strung up its 450-metre-high rock face as a tourist attraction.
"I talked to the farmer who owned the land and said 'I'd like to build a climbing activity up your waterfalls', and he just looked at me: 'Why the hell would anyone want to do that?'"
The Global Financial Crisis delayed things, but in 2015 Mark reanimated the project, with the design spearheaded by his climbing mate and engineer Martin Wilson. They plotted the route by abseiling down the waterfalls, taking hundreds of photographs. Anchors for the bridges and rungs were then stress-tested (test anchors were found to fail at around 280 kilonewtons and 30 kilonewtons respectively – "ridiculously strong"). In 2015, Mark and two others started building the via ferrata, diverting from the planned route as they went "because we are all climbers and we just had to find the most fun way to climb it".
It incorporates three stages, ascending in difficulty to the final Lord of the Rungs section, and includes rungs, ladders, seven suspension bridges and a 60-metre section where you climb behind the waterfall – always safely tethered to lines. "Technically the biggest challenge was stringing the bridges across," says Mark.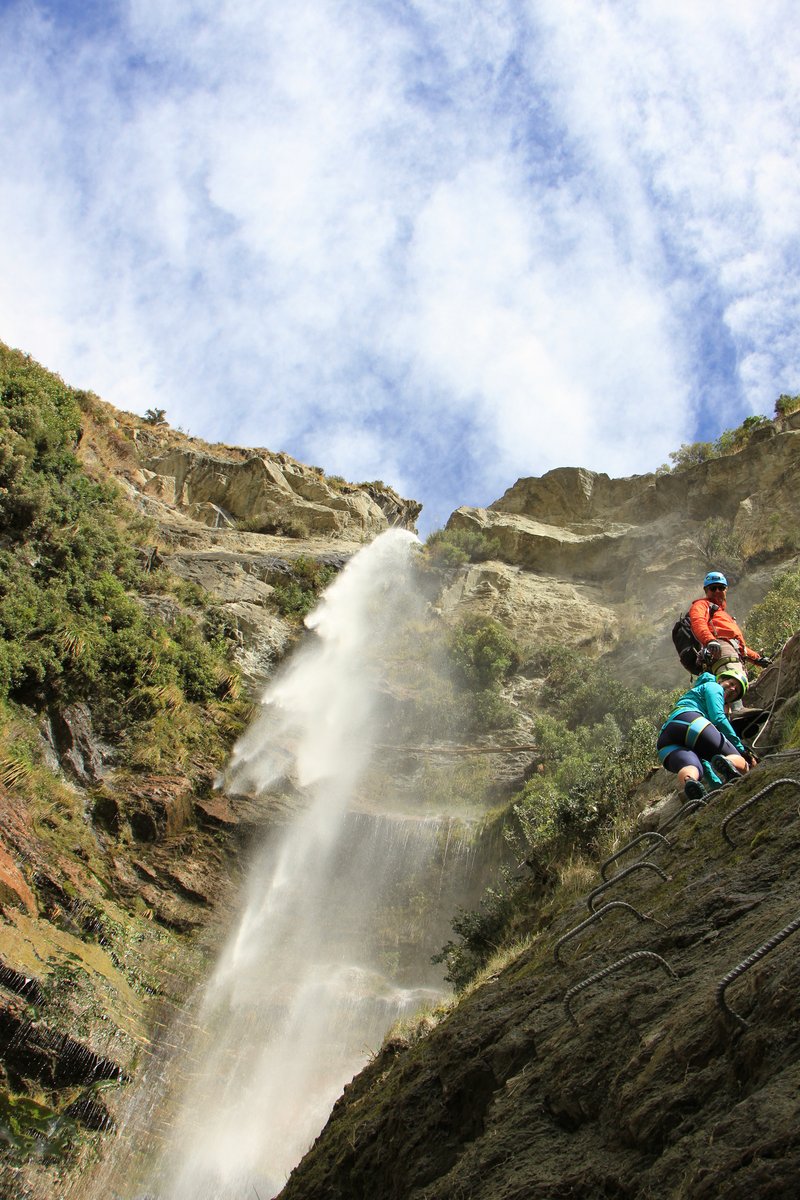 Canterbury Multi-Use Arena, Christchurch
If you were to use a sporting analogy, the build-up to breaking ground on the Canterbury Multi-Use Arena has been like waiting for the World Cup. Among Christchurch's post-earthquake anchor projects, it's the last to get started and, at $533 million, comes with the biggest price tag. Entrusted to a consortium known as Kōtui, which includes domestic and international companies including stadium design experts Populous and BESIX Watpac, the project will by mid-2025 deliver an arena for a sports event crowd of 30,000 (more for concerts by incorporating the pitch), a transparent ETFE roof, and a natural, sheltered turf pitch.
Mott MacDonald is leading the engineering design. Structural Practice Leader Nick Gillespie CMEngNZ CPEng says among the most challenging aspects has been the roof, which spans 175m by 210m.
"One of the key decisions at the concept design stage has been what supports it? We're working on designing it as an independent structure – a bit like an enormous shed spanning above the discrete bowl structures. The roof could derive its spanning capability from a series of portal frames, coupled with dome action to provide additional rigidity to the roof diaphragm."
In addition, the design team needs to deliver project outcomes such as turf health, fan experience, multi-use functionality, and minimising noise breakout while maximising sunlight. Seismic resilience will also be crucial. To balance these requirements, an integrated architectural, structural and building sciences approach has been adopted. As for sustainability and inclusion, the design process has involved an analysis of life cycle energy and embodied carbon to enable whole-of-life decision making. Rainwater from the roof will be used for watering the turf, and for less mobile visitors there will be easy access to the level one concourse which spans the entire arena.