By Rachel Helyer Donaldson 29 Nov 2021
Human activity is changing our climate in unprecedented and irreversible ways, and extreme weather events are appearing with ever-more frequency and intensity. Against these, seawalls and other grey infrastructure may no longer be sustainable. Ultimately for some settlements, a managed retreat – the planned withdrawal of communities and infrastructure away from coastal areas or other risks – may be the only option. But how are coastal communities and engineers adapting?
"The risk is changing, the climate's changing, and we need to adapt," says Dr Rob Bell FEngNZ CPEng, an environmental/coastal engineer who spent much of his four-decade career at The National Institute of Water and Atmospheric Research (NIWA) studying coastal hazards and climate change.
Now running his own consultancy, Bell Adapt, he advises local and central government on issues such as climate change adaptation and adaptive infrastructure, as well as lecturing on environmental planning at the University of Waikato.
He says that the number of floods will "increase quite dramatically" over the next 20 years and all low-lying coastal settlements will be affected. Some areas "probably only have a couple of decades" to get their adaptive planning in place.
"They need to know when they might have to do managed retreat, and plan for it, and put the brakes on any more development."
When is managed retreat the best option?
Removing or relocating houses is controversial and costly, so how do you identify when managed retreat is the best or most viable option? Rob says the ideal is pre-emptive – taking time to plan and build around a flexible and dynamic "adaptive pathways approach" that enables communities to consider alternative sets of options for the long term. This acknowledges there is uncertainty about exactly when the coastal environment will be affected by climate change.
"You respond as the change unfolds through monitoring, you set in place sequences or adaptive plans, and then you move when you have to. If sea level rise slows down and we get global emissions under control, then things won't change as quickly as we thought. But, if it speeds up, we have the next stage of the plan in the top drawer, ready to go."
A good example of the adaptive approach is Auckland's SH16 Waterview Causeway upgrade, which Rob consulted on as a NIWA engineer.
"We put in the first stage of an adaptation option – if sea level rises beyond 0.8m there is the ability to add height to that road."
The adaptive pathways approach to managed retreat originated in the Netherlands. New Zealand was first to put it into its national guidance but is "struggling" with how to implement it.
"A lot of councils are on board with it but it's going to take time to filter through."
Funding and national direction remain major stumbling blocks.
"To be truly pre-emptive it needs some enabling statutes behind it. The present statutory system doesn't easily enable managed retreat."
It is hoped that the forthcoming overhaul of the Resource Management Act (RMA), including a new Climate Change Adaptation Act, will deal with complexities surrounding managed retreat and ensure change happens consistently and fairly.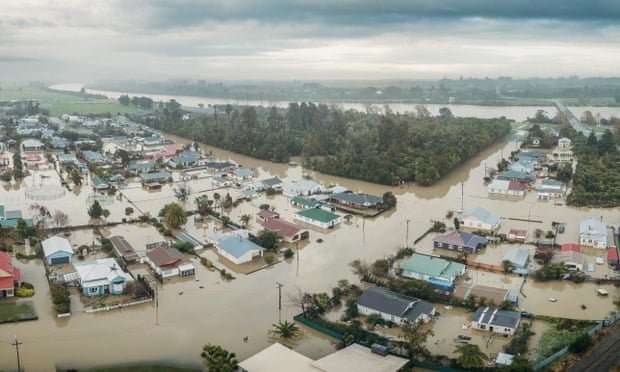 Flood-weary Westport considers options
The devastating floods came during a stormy weekend in mid-July 2021. Both the Buller and Orowaiti rivers burst their banks, forcing more than 2,000 of Westport's 5,000 residents to evacuate. Around 500 homes were damaged, at an estimated cost of $85 million. Some have been flooded three times in 10 years. There's talk of red-zoning parts of town, compensating homeowners and rebuilding elsewhere, as a possible solution.
But, in September, the West Coast Regional Council (WCRC)'s pre-flood proposal of a $10.2 million flood protection scheme got the green light. It received overwhelming support, with 71 percent of 182 submissions backing it. The extensive system of stopbanks and floodwalls will ringfence the town from the Buller and Orowaiti rivers. The only other option up for consideration was a partial stopbank scheme.
Some form of managed retreat for Westport within the next 100 years is a "worthy discussion", says Buller District Council (BDC) Mayor Jamie Cleine. Post-flood, BDC sought advice from engineering firm Tonkin + Taylor who suggested alternatives to floodwalls. This was a "multi-pronged approach" that included "some hard structures, some red zoning or removing some housing, and floor height lifting".
This flood set new benchmarks for the type of protection Westport may need in future. One of the proposed stopbank schemes would have been of little use, says Mayor Cleine, as it provides no protection from the significant flows from the Orowaiti.
He says for now, the community has chosen the ringfence walls which will provide a level of protection.
"However, I think it's an opportunity lost not to have advanced the broader conversation in partnership with the insurance industry and central government, but I get that we have an obligation to get people back into their homes."
In the long term, Westport residents will be encouraged to move to higher ground areas under new zoning laws and building regulation rules via the West Coast's "one district plan", Te Tai o Poutini.
Mayor Cleine says New Zealand is "not quite ready" for a conversation about managed retreat, certainly not within the timeframe of Westport's rebuild.
"At a policy level, the mechanisms and the funding aren't quite there yet.
"There are plenty of little towns like us all around New Zealand, built on river plains or other hazards. This will just be repeated as the climate gets more intense. Sooner or later, the conversation will have to happen."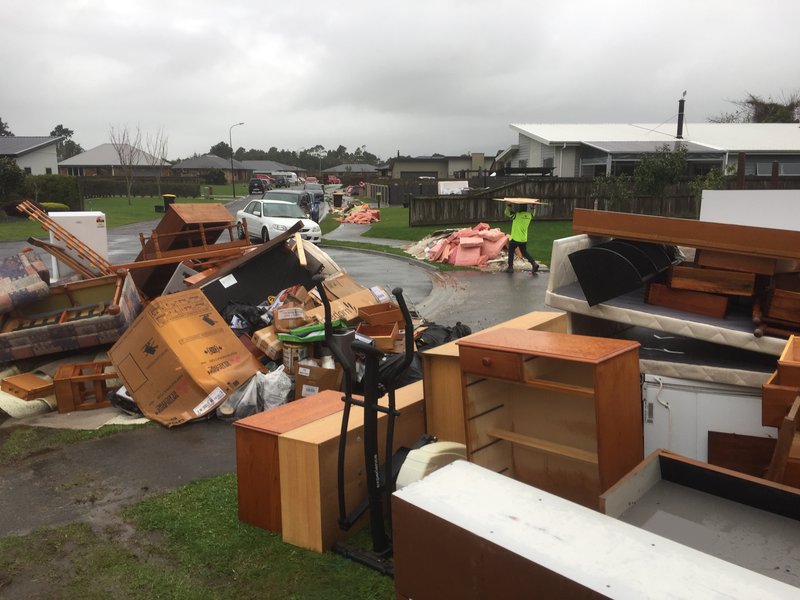 Engineers need to adapt, too
There will be real demand for adaptation, including pre-emptive managed retreat, once new national guidelines come into place, says Rob.
"We need engineers who think broadly, creatively, and who can think from a systems viewpoint, looking at interdependencies and linkages behind the changing parts, including the environment."
How engineers cost and evaluate projects in the face of rising risks with climate change is another issue, comparing, for example, a short-term option for a road or airport, like a seawall, versus a long-term option like managed retreat.
Engineers are there to serve and empower, to provide guidance and designs that are adaptive, rather than steering the process. – Dr Rob Bell
Engineers need to co-produce solutions with communities.
"The old-school consult model, telling people what the options are and asking for their preferred option, no longer works. For communities, it affects their lives. Engineers are there to serve and empower, to provide guidance and designs that are adaptive, rather than steering the process."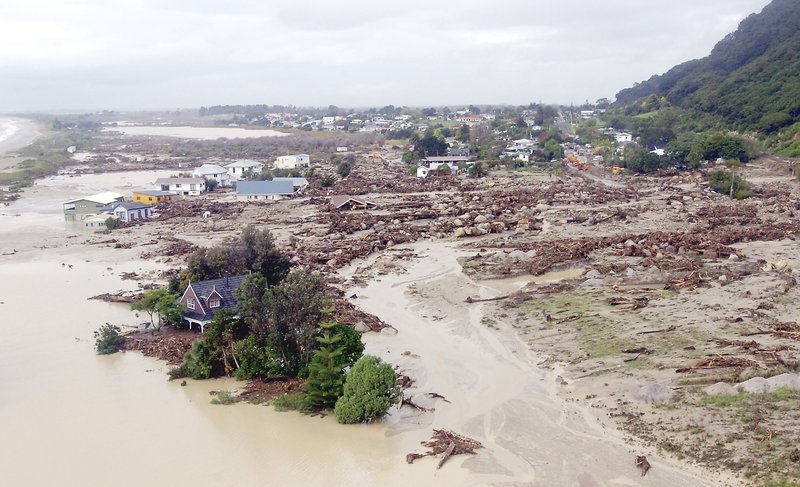 Managing Matatā
In May 2005, intense rain triggered several large debris flows across six river catchments at Matatā near Whakatāne, causing $20 million damage, destroying 27 homes and damaging 87 other properties.
The worst damage came from the Awatarariki Stream's debris flow. A terrifying torrent of boulders – some as big as houses, up to 7m in diameter – tree trunks and 300,000 cubic metres of silt surged 15–35kph down the steep catchment to the fanhead. Houses floated on the thick, concrete-like slurry. It is "absolute sheer luck that no one died," says Whakatāne District Council (WDC) chief executive Steph O'Sullivan. But the resulting years of uncertainty have caused an incredible stress and impact on residents' lives, she says.
WDC strategic project manager Jeff Farrell, who was involved in both the response and recovery phases, says the council tried to stop people moving back on to the Awatarariki fanhead in 2006. But the then Department of Building and Housing determined that position was not valid under the Building Act (Determination 2006/119 Dangerous building notices for houses in Matatā, Bay of Plenty).
Six houses on the debris fan were subsequently rebuilt; another 10 that were extensively damaged were repaired. Meanwhile the council considered a range of engineering options including an earth dam and a ring net structure. In 2012, detailed investigations confirmed there were no viable engineering solutions.
Quantitative risk assessments showed there was a high loss of life risk. A WDC consensus development group that included landowner representatives eventually agreed a voluntary managed retreat provided a potential option.
In 2017, changes to the Regional Policy Statement resulted in WDC having a statutory responsibility to reduce high natural hazard risk. With no viable engineering option to manage the hazard, reducing existing risk meant rezoning the land and extinguishing existing use rights through plan changes.
WDC sought government and regional council funding contributions towards a voluntary managed retreat buyout programme but was initially advised by government to utilise the existing legislative provisions under the RMA before funding would be considered.
"This was quite polarising and voluntary managed retreat effectively became compulsory retreat," says Jeff.
From July 2019, residents were progressively bought out using a $15 million fund, with equal contributions from WDC, government and the regional council. One house remains until 31 March 2022 when their right to occupy the land ceases. One had to be demolished and 14 have been relocated either in full or in part.
Most of the sites have been cleared and grassed. One other property owner remains for now. Next steps are to amalgamate the titles of the acquired properties and change the status to Reserve. A Matatā community group will lead the open space design process. In 2005, there was a lack of information about debris flows.
"They are relatively rare and so not well-understood," says Jeff. There was also the temptation to offer an engineering solution, even when it was not well understood, says Steph, who joined WDC in 2018.
"They are more palatable to the community who, after such devastation, understandably want something to happen, and quickly."
Steph says an established national framework to enable managed retreat would have delivered a better outcome. This would "provide agility and flexibility and decisions to be made quickly for communities".
---
Te Ao Rangahau has launched a climate change programme, Engineering Climate Action, which supports our members, industry and the government to take positive action to address climate change mitigation, transition and adaptation.