By Kavita Kansara 30 Sep 2020
Dr Sanjay Mathrani is part of the School of Food and Advanced Technology at Massey University in Auckland and is a Chartered Member of Engineering New Zealand.
What's your role at Massey University?
I'm the Major Leader of Engineering and Innovation Management and the Dean for second year BE (Hons) in the School of Food and Advanced Technology. I lead the teaching of graduate and postgraduate courses in product engineering – in design, development and manufacturing.
I also supervise doctoral research programmes. I'm currently the primary supervisor of four doctoral students looking at performance improvement strategies in different engineering and operational domains. My role goes beyond my discipline to embrace the overall academic practice. I engage with internal and external stakeholders, including industry partners for joint developmental projects.
What's the most rewarding thing about being an engineering academic?
For me, it's in sharing my practitioner experience and technical expertise with students and helping them develop a strong base in engineering problem-solving. In seeing my students excel in their careers with opportunities in companies such as Fisher & Paykel Healthcare, Fisher & Paykel Appliances, and Fonterra to name a few, is very rewarding.
What skills did you learn during the lockdown, which you have brought into the lecture room?
The lockdown introduced us all to the 'new norms' in the online space. We faced a situation in which we had to create online coursework at very short notice and run teaching sessions over Zoom.
We faced complexities in the project-based learning courses where students had to physically develop prototypes in the workshop, which was not possible in the online scenario during the lockdown. We ensured that the pre-development work using CAD and solid modelling were executed over a virtual platform, and some safe low-tech development was undertaken at the convenience of students at their home. The lab and workshop activities, however, were completed when the school re-opened with our teaching semester extended by two weeks.
Another interesting experience was in the teaching of supply chain analytics course. The lockdown showcased how supply chain services are intertwined with other essential services. We all faced a shortage of items at the supermarkets such as hand sanitizers, flour, yeast, etc., showing how the demand and supply functions could be disrupted.
This provided us with a perfect case study for demand-driven supply chain services. Everyone in the class had some personal experience in not getting some item from the supermarket so we could have in-depth discussions on demand fluctuations, lead times and their solutions.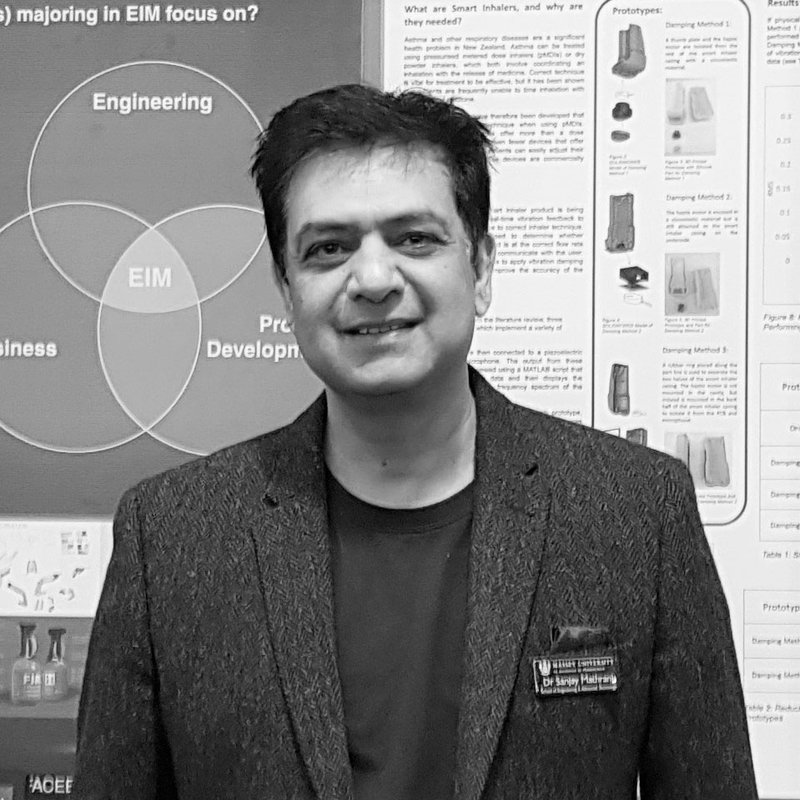 Final year engineering students undertaking a BE, usually undertake a final year research project. What would be your dream project to supervise?
Our final year Engineering and Innovation Management students execute a Capstone project, which is often industry-sponsored, so the students get an opportunity to work on real-life projects in a professional environment.
I can say that I recently supervised one of my dream projects. This was a funded project sponsored by NIWA last year, focused on educating NZ school children about air quality, increasing scientific literacy and collecting research data on air quality in schools.
This was achieved by developing a "Room-in-a-Box" that served as an environment for conducting science experiments, capturing experimental data and transfer onto a website for further analysis and visualization. Four boxes were built to tour around NZ schools for the conduct of science experiments, creating a database of air quality measurements and educating students on these aspects. This was an amazing project with great learning outcomes.
Why do you think softs skills are just as important as technical skills for today's engineers?
Very often engineers place greater emphasis on their technical skills and less regard to soft skills. In my opinion, soft skills are vital in complementing technical skills and are required in just about all the engineering roles within the industry.
Skills such as communication, problem-solving, organisation, leadership, teamwork, creativity and interpersonal skills are quite relevant and assist in improving the overall engineering abilities in all stages of one's career.
Why are you a member of Engineering New Zealand?
I've been a member of Engineering New Zealand and a Chartered Professional Engineer since 2009. This has helped me in providing assurance in terms of my competency as an experienced engineer and a professional of high technical and ethical standards in my ongoing engagement with industry. It has also assisted in strengthening my relationships with external stakeholders and in enhancing my university's reputation.
Many engineers have great musical abilities. Can you play a musical instrument?
I can play the harmonica, which I learnt during my childhood. It keeps me and my friends entertained whenever we have an opportunity. It's a great companion during times of solitude and while travelling as well.
What is your favourite piece of engineering in Auckland?
The Sky Tower – its structure, location, height – a marvellous piece of engineering in New Zealand. Being the tallest structure in the southern hemisphere, it's a landmark in Auckland's skyline and stands out with changing LED colours in the evenings. I must say the fireworks from the tower look fabulous as well, particularly on New Year's Eve.