By Kavita Kansara 6 Apr 2021
We spoke with Alessandro Palermo from the University of Canterbury – a Professor in Structural Engineering and Director of Postgraduate Research.
What's your role at the University of Canterbury?
I'm a Professor in Structural Engineering and Director of Postgraduate Research, where I currently manage over 95 PhD/Master students.
You've received numerous teaching awards and accolades throughout your career, so clearly have some great expertise! From your experience, what are the main qualities that make a good teacher?
Moreover, within the millennium generation, teachers must be creative in the way they communicate. Students are smart and receptive but they need to be engaged. It's not just delivering a good lecture package and a comprehensive set of notes that make your lecturing effective. Students feel what we feel, and I believe that a lecturer should bring her/his authentic personality through.
I have a bubbly personality and I'm passionate, which I make sure comes across in my classes. The lecturer can make a real difference, especially when teaching complex design courses where students have to deliver an individual or group project.
For example, in the UC bridge building competition students work very hard and beyond the basic assessment requirements, simply because they are fully engaged. In my twelve years of experience here at UC, I've never had a complaint about the workload!
Another important quality for a teacher is to trigger lateral thinking. We need to train our students to think differently in any problem/project so that we stimulate their creativity and entrepreneurship. I don't generally assess my class on how to read/apply standards but I focus all my problems around structural engineering fundamentals. I always tell my students to remember that Romans designed aqueducts and bridges without any "cookbook recipe".
What skills did you learn during the lockdown, which you have brought into the lecture room?
During the lockdown, I wasn't teaching, but I learnt how to better use digital technologies. I strongly believe we shouldn't aim to have our programmes fully delivered online – we lose the face-face empathy that's instrumental to build positive energy within the class.
I think we have to go into a hybrid approach where we complement face-to-face with online learning material. I built up short videos that explain the different assignments and cover the typical challenges students face when they start my design project.
The world of engineering is constantly changing. How do you keep up to date with what's happening?
An academic should never stop being a student and aiming to improve and challenge him/herself. Curiosity keeps me constantly searching for a change. I generally read and search for novel technologies through different channels, ranging from top international journal papers, up to social media apps, such as Pinterest.
Since we're facing a fast digital transformation in civil engineering, academics have to constantly adapt their research directions. I also believe in the next decade our Civil Engineering programmes will have to evolve significantly to the new society's requirements especially within the use of digital technologies.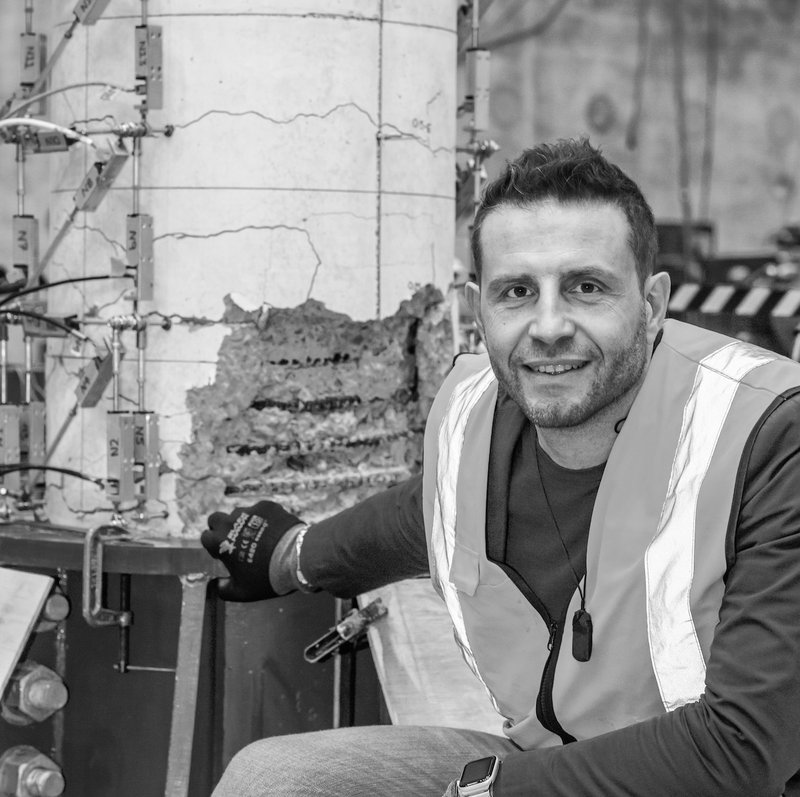 What got you interested in engineering in the first place?
When I was a child I wanted to become a scientist and design rockets and robots. I always wanted to create/design/build anything. When I entered the engineering programme at the Technical University of Milan, after the first intermediate year, I wanted to become a nuclear engineer and design nuclear power plants. However, after talking to few academics I ended up choosing civil structural engineering.
The progress we're facing with digital technologies is bringing back my reminiscence of the past. In fact, I'm currently working on an interesting project in the structural architectural area where we're exploring use of robotic arms to build artist forms and structures that uses tessellation principles.
Why are you a member of Engineering New Zealand?
I'm a member because it feels like being part of a community and I can better understand which directions the profession is taking. For an academic, it's important to be formally connected to Engineering New Zealand. I also find the newsletter really insightful and the website online platform very user friendly and an excellent source of information.
How do you engage with Engineering New Zealand?
I'm currently a member of the Canterbury Branch, but I constantly interact directly with the Head Office and I found the overall support incredible.
Last year, within a blink of an eye, we organised a very successful seminar series called "Lessons Learnt from Bridge Failures" which attracted more than 4000 registrations (2000 attendees) and included five presentations from world-renowned international speakers. The organisation wouldn't be possible without the support from the Engineering New Zealand team.
Following the earthquakes, Canterbury's been the home of some great feats of engineering. Do you have a favourite piece?
My research area has always been around the development of resilient solutions for bridges and buildings and I worked closely as a consultant on a few buildings and one bridge built in Christchurch. Any structure that can be classified as a seismic low-damage type becomes my favourite.
I love Christchurch more than any other city in the world because it's the world capital of low-damage seismic design, and resilience is embedded in every aspect of the city – including the people and culture. This step-change couldn't be possible without having the whole engineering community embracing new technologies/design procedures and challenging the status quo.
However, if I have to choose my favourite, it'd be the Christchurch Cathedral (once the refurbishment is completed). Being an Italian, this shouldn't come as a surprise. I think combining structural resilience with heritage preservation is very challenging but also fascinating.
What do you do in your spare time?
I enjoy what I do at work so much, that my spare for recreational activities is always limited. When I teach the UC bridge building competition for six to eight weeks, I barely see my family in the evenings. But I have so much fun with the class that my wife always forgives me for my extra hours!
Generally, most of my spare time is spent with my family. I have a seven-year-old daughter and a one-year-old son. They are my immune system booster: when I come back home after a bad day and I see their smiles, I feel refreshed and recharged and all the stress/negativity disappears.