By Engineering New Zealand 26 May 2023
Tropical Cyclone Gabrielle was an historic event, causing widespread damage and the tragic loss of 11 lives. Engineering Geologist Robert Loomes from LDE describes his experiences as part of the Hawke's Bay Regional Council's rapid response programme.
Normally, building a structure like a stop bank is an involved and drawn-out process. "Ideally, you'd want to go through an investigation phase, then a design phase and then peer-review – all that good stuff," says Robert. But with stop banks breached in 30 places and a cumulative total of about 5 kilometres of damage to the 248 kilometres of stop bank in the region, time is not a luxury the people of Hawke's Bay can waste.
We were told 'okay, here's your site, we need boots on the ground tomorrow'.
With winter on its way, the race is on to restore the stop banks to near-original condition.
"In this case, the whole process is kind of happening all at once. We were told 'okay, here's your site, we need boots on the ground tomorrow'," Robert says. "That makes it more of a reactive process, meaning you have to always expect the unexpected, be nimble and able to improvise with your engineering responses to make sure you meet the determined standards."
The stop banks were originally built using whatever material was available nearby, meaning they vary in their composition and engineering techniques used in construction. So a one-size-fits-all approach to repairing them is neither the fastest nor most appropriate solution. Instead, work crews were divided into pods – each with a technical lead, like Robert, and focused on one work site at a time.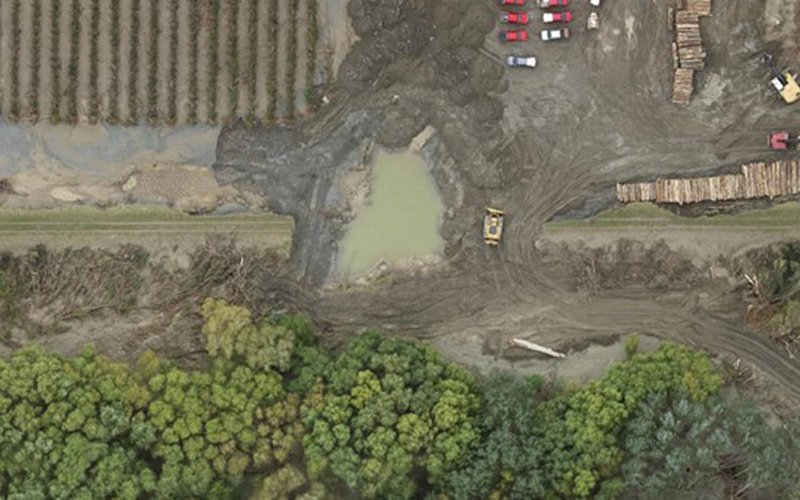 For many sites, a main challenge was rebuilding the stop banks with the construction material available. "You can't afford for water to seep through it during flooding – the whole thing would destabilise," says Robert. "What you want to use to prevent that is an impermeable material like a silt or clay, but that can be hard to come by at the moment."
In one case, an impermeable blanket on the river side of the bank was the solution. "We modelled it to see how it was going to behave, and we found it would give us an extra two day's grace before the bank began to break down, which is enough to make it through an expected flood."
In other cases, a level of seepage is inevitable, so Robert would add a small toe drain – a coarse mixture of gravel built into the base of the stop bank on the land side. "It lets a small amount of seepage through the bank without enabling piping of soil particles out from the bank itself," he says.
To avoid delaying progress on the rebuild effort, decisions have been made quickly and different approaches to repairing various parts of the stop bank system have been used.
"We have been given all the flexibility in the world to design it how we want to design it," says Robert. "But a lot of responsibility is on us, right down to finding the materials we need to build the thing. So there's a lot of troubleshooting involved."
However, Robert is optimistic there is opportunity to consolidate the insights each pod has gained and help the Hawke's Bay prepare for future flooding events that may affect local communities. "We intend to all get together at some point soon to discuss lessons learned and put together some good practice methodology that suits the local conditions," he says.