By Engineering New Zealand 19 Nov 2021
We're delighted to announce the winner of our Engineering New Zealand Heritage Award 2021 is New Ōpaoa River Bridge – a project that's delivered two bridges that combine safety and strength, represent the mana whenua of Wairau, and celebrate heritage values. And a big congratulations to our two Highly Commended projects – Basin Reserve Old Pavilion Strengthening and Refurbishment, and Take Me With You!: A Self-Drive Guide to Whanganui's Engineering Heritage.
The Engineering Heritage Award celebrates innovative heritage projects that have delivered value to a community, iwi, organisation, environment, education, or general New Zealand society.
This year's winner and highly commended projects showed outstanding delivery in the areas of restoration and adaptive use, interpretation and storytelling, and public programmes and education.
WINNER
NEW ŌPAOA RIVER BRIDGE
Waka Kotahi, WSP, Heritage New Zealand Pouhere Taonga, Marlborough District Council, Te Rūnanga a Rangitāne O Wairau, Ngāti Toa Rangatira, Ngāti Rārua, and Downer NZ.
Marlborough's Ōpaoa River is a treasured waterway, now spanned by two bridges that mark the northern entrance to Wairau/Blenheim: the New Ōpaoa River Bridge and the heritage structure, Opawa Bridge.
It's a project that's delivered on all three areas of the award. There was a clear vision, engagement with all the right people, and as a result, has had a great impact on the local community.
Thought, care, research and collaboration has gone into, not just retaining the historic bridge, but in making sure it has wide use and relevance for communities today and in the future. The lasting relationships built during this project also made it stand out." – Cindy Jemmett, Heritage Advisor, Engineering New Zealand
Background
Commissioned in 1914, the Opawa Bridge over the Ōpaoa River is a Heritage Category 1 concrete bowstring arch structure. The historic bridge is part of Aotearoa's principal roading network, but a 2015 investigation revealed it was too narrow for large freight vehicles and vulnerable to earthquakes and flooding.
Waka Kotahi NZ Transport Agency, supported by WSP, began work to replace the bridge with a new structure that was safer, wider and more resilient.
The new Ōpaoa River Bridge is a contemporary structure adjacent to the Opawa Bridge heritage structure.  Opawa Bridge has been restored and repurposed for the local community, functioning as a pedestrian and cycle route.
It's an excellent execution of a heritage plan and enhancement of a heritage structure to be more versatile and useful into the future." – Brent Meekan, Engineering New Zealand Board Appointee on Engineering Heritage Board.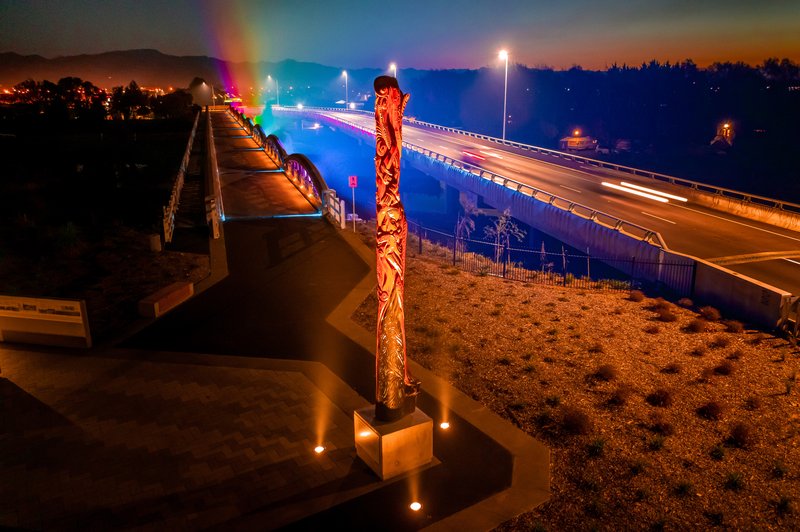 More than just a bridge
The goal was to celebrate the Opawa Bridge heritage structure by giving it a renewed life and creating a space where people could come and reflect – not just pass through. The new Ōpaoa Bridge structure is sympathetic to the Opawa heritage bridge, with the delicate shape and patterns on the new bridge reflecting the shapes and construction of the old.
Recognising the importance of the wider site to the mana whenua of the Wairau region, a series of hui were held early in the design process with the three mana whenua iwi Te Rūnanga a Rangitāne O Wairau, Ngāti Toa Rangatira, and Ngāti Rārua.
Together, cultural and spiritual aspects were incorporated into the design of the new structure and complementary landscaping.
It evolved into a project that holds a lot of significance – notably, for the three mana whenua iwi involved. It was a milestone for these iwi, who'd never had an opportunity to work together on a significant project of this scale before.
The repurposed Opawa Bridge is now a community space to hold local events. The bridge's northern end is a landscaped area complete with a courtyard, interpretative panels, gateway signage, and Pou Whenua. Master carver Reg Thompsett (Tainui, Ngāti Māniapoto) was selected by the three iwi of the area to carve the pou whenua, which marks the northern entrance to Wairau, and represents the history of the mana whenua, the Wairau region, and the history of the bridge.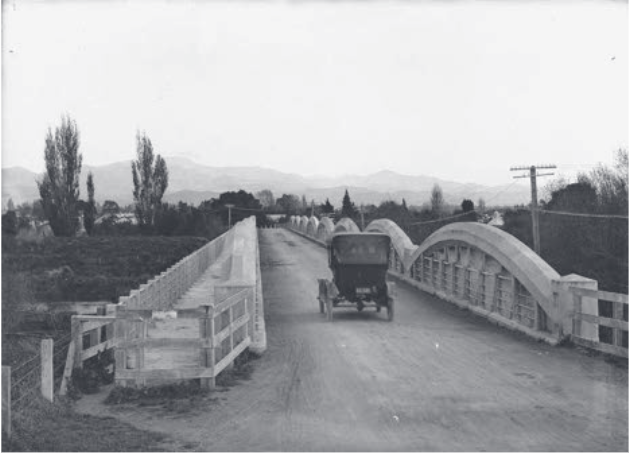 HIGHLY COMMENDED PROJECTS
BASIN RESERVE OLD PAVILION (MUSEUM STAND) STRENGTHENING & REFURBISHMENT
Silvester Clark Consulting Engineers, Shand Shelton, Armstrong Downes Commercial, Cricket Wellington, Wellington City Council.
The Basin Reserve has been part of the Wellington landscape since the 1860s, and its Old Pavilion Grandstand, since the 1920s.
It's Aotearoa's most significant cricket ground and one of the oldest cricket grounds in the world. The Old Pavilion Grandstand, commonly known as the Museum Stand, has been loved for 100 years as team changing rooms, clubrooms, storage, offices, ground entry, and as the home of the New Zealand Cricket Museum.
It's not only significant to Aotearoa, but is an internationally recognised landmark, often referred to as the home of New Zealand cricket.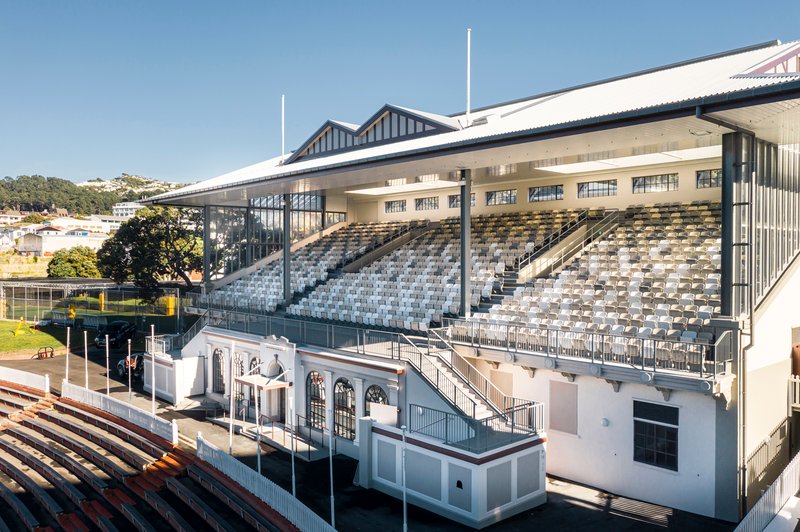 Generally, the building was in poor condition and earlier consultants had suggested demolition may be the best course.
The stand was closed in 2012 due to seismic risk concerns. A Detailed Seismic Assessment of the structure scored the Grandstand a low 23 %NBS – meaning the building was deemed earthquake prone.
However, Silvester Clark investigated the required strengthening and maintenance, and with other stakeholders, came up with a scheme to save the historic building, preserving it for future generations.
Following some detailed assessments and thoughtful engineering, Silvester Clark not only saved the building, but bought it back much stronger and wonderfully refurbished and renewed.
The building is a Category II heritage listed building and it sits very proudly and prominently at the Basin Reserve, itself a listed historic area.
The project managed to preserve the character of the original structure whilst adapting it to meet the requirements of 2020. Engagement with a variety of stakeholders have allowed an iconic part of Wellington's history to be preserved for future generations." Hayley Annear, Young Engineer Chair, Dunedin.
TAKE ME WITH YOU!: A SELF-DRIVE GUIDE TO WHANGANUI'S ENGINEERING HERITAGE
Karen Wrigglesworth
Karen Wrigglesworth, the Author of Take Me With You!, is a Whanganui-based writer with a degree in mechanical engineering.
Take Me With You! is a portable, guidebook-style publication, which profiles engineering and industrial heritage sites in Whanganui and the surrounding region.
The book celebrates local engineering heritage through an engaging series of profiles that people can take along with them when visiting each site.
Take Me With You is a fantastic way of preserving history for a city and region in the years to come, by appealing to a wide range of readers (beyond engineers). The book will hopefully encourage more people to become interested in the impact of engineering in the world around them." Hayley Annear, Young Engineer Chair, Dunedin.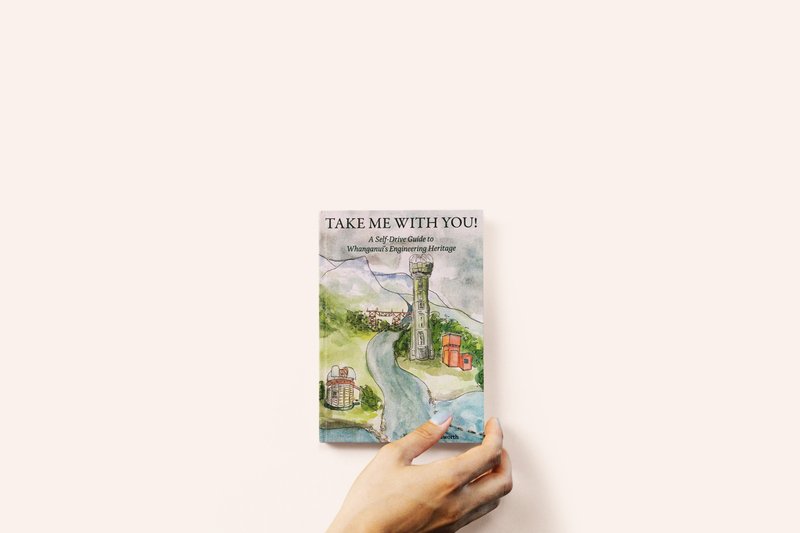 There are plenty of engineering focused books about how bridges stay up, but nothing quite like Take Me With You! has been published before.
Take Me With You! excites people about engineering and industrial structures in and around Whanganui, opening people's eyes to specific heritage places they can visit.
It tells the stories about how and why structures were built, who was involved, the final solutions developed, and – most importantly – how the structures work.
For readers, it is like having a 'real engineer' on hand to answer questions about features and in-depth details in a way that non-engineers will find interesting and easy to understand.
Technical heritage is a vital but often overlooked aspect of our shared cultural heritage. Engineering is something we all live with, use and rely on everyday – and understanding 'how it works' and why technology is cool doesn't have to be complicated!" – Karen Wrigglesworth.