By Rachel Helyer Donaldson 6 Jun 2022
Coastal shipping was once a thriving business in Aotearoa, with a 34-strong fleet of New Zealand-flagged container ships servicing the country's many ports. Deregulation in the late 1980s saw an influx of enormous international container ships who undercut local operators. The fleet dwindled away to a single small boat, Pacifica Shipping's Moana Chief. But could it be part of the answer to addressing supply chain vulnerabilities and transport emissions?
For the past few decades, the bulk of our cargo containers have been delivered by huge international vessels from North America and Asia. After dropping off most of the cargo in Auckland, they would continue down the country offloading and onloading freight. But Covid-19 and the resulting global congestion proved New Zealand's supply chain is particularly vulnerable, says marine engineer and President of the New Zealand Shipping Federation (NZSF) Clive Glover.
The unprecedented port delays had a serious knock on effect for distribution of New Zealand freight. "We're seeing shipping lines not prepared to wait at anchor off New Zealand ports, and of services giving up or, sometimes, going straight to Sydney. It's highlighted our reliance on overseas operators who can come and go with no certainty of service."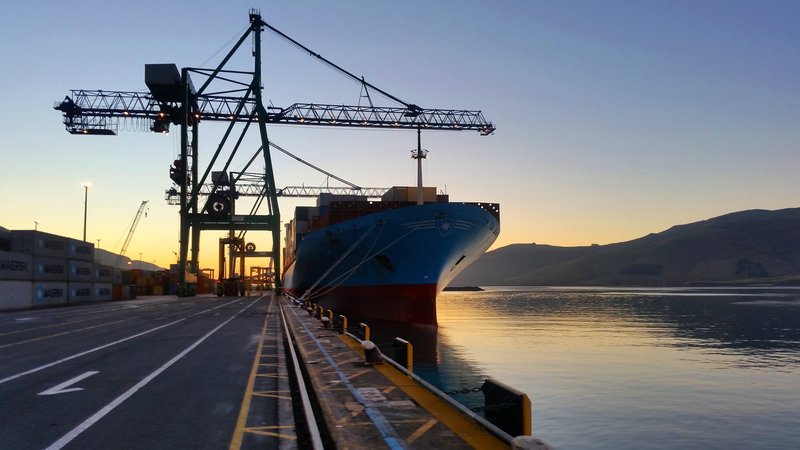 Set to sail
A 2021 report commissioned by Waka Kotahi NZ Transport Agency on the state-of-play of coastal shipping notes New Zealand's "freight task" equated to 278.7 million tonnes in 2017/18. Of that, coastal shipping carried about 10 million tonnes (3.5 percent). In terms of cargo containers, 418,470 twenty-foot equivalent units, or TEU, were transported in 2019. The Government has committed $30 million funding for coastal shipping through the National Land Transport Programme to improve domestic shipping services, reduce emissions, improve efficiency and upgrade maritime infrastructure.
Industry players hope to capitalise on this sea change. In late 2021, Move Logistics announced the launch of a regular, inter-island coastal freight service to secondary ports. And Whangārei's Northport has revealed intentions to increase its container ship handling business. Coastal shipping is more cost-effective, emissions efficient and sustainable than other modes of freight transport, says Clive, who is also General Manager of Marine Operations at StraitNZ.
A lot of work still needs to be done in terms of emissions, and domestic operators are reliant on the availability of alternative fuels. The carriage of freight on coastal ships has a significant advantage due to the fact more freight is carried per unit of fuel required. It is the preferable option for non-time-critical freight, he adds.
When you calculate the amount of carbon consumed to move a unit of cargo, coastal shipping is the most efficient and comes out on top every time. – Clive Glover
Preventing running aground
Clive says a lack of infrastructure helped sound the death knell for much of New Zealand's coastal shipping service. Major ports had roll-on roll-off or "ro-ro", ramps, whereby vehicles could drive onto the vessels, he adds. "Now it's effectively a container trade, except for the Cook Strait service." Meanwhile, the move internationally towards ultra-large container ships visiting fewer ports means that several of our ports will struggle to accommodate international vessels and have to rely on a domestic coastal operator.
The case for a resilient supply chain extends beyond Covid-19, with New Zealand's exposure to natural hazards, says Beca Senior Technical Director Jennifer Hart MEngNZ. In 2016, SH1 and the Main North Line railway suffered severe damage during the Kaikōura earthquake. "The logistics chain could pivot. Coastal shipping helped to pick up the slack and freight was shipped from Auckland direct to Christchurch." She says our state highways and railways can be vulnerable to landslips and flooding. "Coastal shipping gives an alternative." Sustainability is another driver for taking a fresh look at coastal shipping – although it's not a new idea.
Jennifer references the section on transport, lead-authored by Massey University Emeritus Professor Ralph Sims, in the 2014 IPCC Mitigation of Climate Change Report. The report indicates that direct CO2 emissions from coastal shipping may be less than 25 percent of those from long-haul road transport. And, notes Jennifer, coastal shipping can provide additional benefits such as improved road safety, reduced particulate pollution in our communities, and increased pavement life.
Staying bouyant
Better port infrastructure will be crucial to supporting a revival of an independent domestic shipping network. The Waka Kotahi report notes "most" port infrastructure will need rebuilding, to allow for larger ships. Another issue is how freight gets to and from those ports. A "New Zealand Inc" benefit approach is needed, says Clive.
"No agency or authority oversees all the ports. But smaller ports are going to have to accept that they might have to be part of a hub and spoke network. For instance, smaller coastal vessels working in Nelson and feeding Tauranga." An enlarged service "doesn't necessarily mean" the wholesale development of new ports or substantial redevelopment of existing ones, says Jennifer. But Aotearoa does have limitations that need looking at.
"There are areas where we do have older infrastructure, and new vessels on order. It also means looking at things like enhancing our current dry docking and ship repair facilities in New Zealand to serve the coastal fleet."Investment and support for the industry will be critical. Clive notes $800 million has been invested in KiwiRail since 2018. In contrast, $30 million is a mere drop in the ocean. Ports and shipping companies will need a "clear signal" from government that it's worth investing in infrastructure and vessels, says Jennifer. She says having an integrated national strategy is key.
"It gives confidence for investment and it means we have a coherent long-term strategy. Coastal shipping needs to be part of the integrated logistics and supply chain for New Zealand. "In order to revive coastal shipping, engineers will be needed to assess existing port infrastructure such as berths, wharves and landside facilities, and the hinterland connections to those ports. The marine and coastal engineering expertise required for this work is in demand in New Zealand, says Jennifer.
The Lyttel(ton) port that could
Lyttelton Port Company (LPC) gets around 150 coastal ships a year across the container, cement and fuel trades. The South Island's largest port would "certainly" welcome new domestic coastal shipping services, says Head of Engineering and Projects, Alistair Boyce CMEngNZ CPEng. LPC would not need to adapt, he says.
"We are already ready. The coastal vessels would use the same infrastructure as the international container ships. For the future, we're also already consented to create another 18 hectares of reclamation for more container terminal space, and create up to 700m of new, deep-draft container berthage." The past decade has seen a "huge increase" in coastal container volumes coming through Lyttelton,carried by domestic and international vessels.
LPC has kept ahead of the curve with a series of development projects. Recent work includes the 2017 construction of Midland Port, a new inland port at Rolleston which, combined with the construction of a second rail siding at the Port, upped the percentage of containers delivered by rail from 3 percent to 20 percent.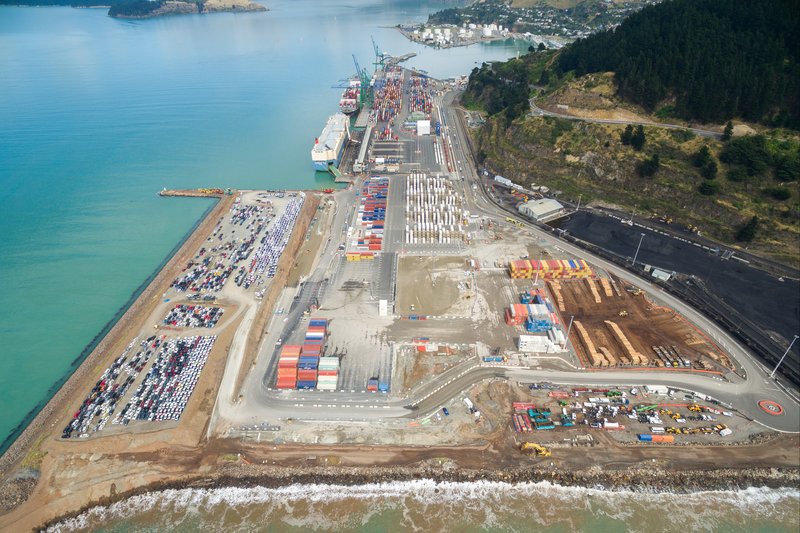 A 2018 channel-deepening project has "significantly increased our sailing windows", Alistair says. In 2021, increased use of the hub and spoke model to feed containers from smaller ports to larger international vessels in Lyttelton boosted LPC's container volumes by 15 percent. Alistair says LPC's engineers "had a huge part to play" to meet that increased demand.
Around half of that additional volume was refrigerated containers or "reefer containers". "We constructed new infrastructure to service those reefer containers, including low voltage and high voltage power supply installations, new pavements, a relocated light mast and fabrication of tracked mobile platforms to access the stacked reefer containers."
LPC is currently midway through its $85 million Eastern Development project which creates six hectares of sealed container terminal pavement, four more towers for the dedicated stacking of nearly 400 more reefer containers, and the construction of a new straddle carrier maintenance workshop facility. This work will increase the terminal capacity to more than 600,000 TEU.Sustainability is important to LPC, says Alistair.
"We look at the 'whole-of-life' cost of infrastructure." LPC works hard to maintain a "healthy harbour", undertaking regular monitoring. Its environmental and sustainability team works with iwi and hapū, and the aquaculture industry, such as mussel farmers and fishers. Green port initiatives include the development of inland ports, and a move to a fuel-efficient fleet of straddle carriers.
---
Prime position for Scott Base redevelopment
Years of investment into land reclamation and infrastructure paid off for Timaru's PrimePort after it was chosen as the main build site for Antarctica New Zealand's Scott Base redevelopment. Now it's set to get an additional, multimillion-dollar boost to upgrade some essential infrastructure prior to construction starting. The $344 million Antarctica New Zealand project will see an entire scientific research station constructed at the Timaru port, to replace the existing base. Once built, it will be shipped to Ross Island in eight modules on an MC-class ship.
Constructing in New Zealand allows for a year-round build, with Antarctica in darkness for six months a year. It also enables the project team to test and commission the buildings before they head south. Leighs Construction will start work once detailed design is finished. Meanwhile, PrimePort will finish upgrading infrastructure and complete enabling work, such as the required wharf, berthing structure and construction site needed to support the project. Timaru City Council has committed $1.5 million towards this. Total spend is "significantly more", says PrimePort Chief Executive Phil Melhopt.