By Alexandra Johnson 20 Jun 2022
There are few new industries in Aotearoa where engineers can be intrinsic to their inception, development, licensing and launch – to both a domestic and international market – and all within just a few years. But Carmen Doran is doing just that, playing a key role in establishing the country's medicinal cannabis industry. And when she's not doing that, you'll find her in a pit stop.
What draws a mechanical and biomedical engineer, with a global background in leadership roles within pharmaceutical and biomedical companies, to medicinal cannabis?
"It's the opportunity to learn more about this medicine and how it can improve people's lives," says Carmen Doran, Chief Executive Officer of biotechnology medicinal cannabis research and development company Helius Therapeutics.
"It's an old medicine, but it's also a new medicine, and there's so much, from a research perspective, we can do."
She says the therapeutic application of cannabis is currently focused on anxiety, insomnia and pain, but its chemical compounds affect the endocannabinoid system found throughout the body, including the brain, organs, connective tissue and immune cells. The system is therefore responsible for managing a vast range of physiological processes and Carmen says the additional applications of cannabis are potentially wide-ranging.
The industry offers New Zealand significant opportunities to aid economic recovery after Covid-19, she says.
"The export potentials are huge for cannabis – creating jobs, creating research. The global medicinal cannabis market is projected to exceed NZ$60 billion by 2025."
But what makes our medicinal cannabis industry different to any other?
"In New Zealand we have a sweet spot. We are good at growing things, we know how to solve problems and use technology, and we have care for our people at the core of our culture. Being able to collaborate and bring that different thinking together is where we can really set ourselves apart on the global stage."
The industry offers unique opportunities for scientists and engineers, and Helius has engaged PhD students and interns to encourage a "talent pipeline".
"We are such a new industry that if we can take people who are learning on the journey together with us, then that's a great way of building our talent for the future."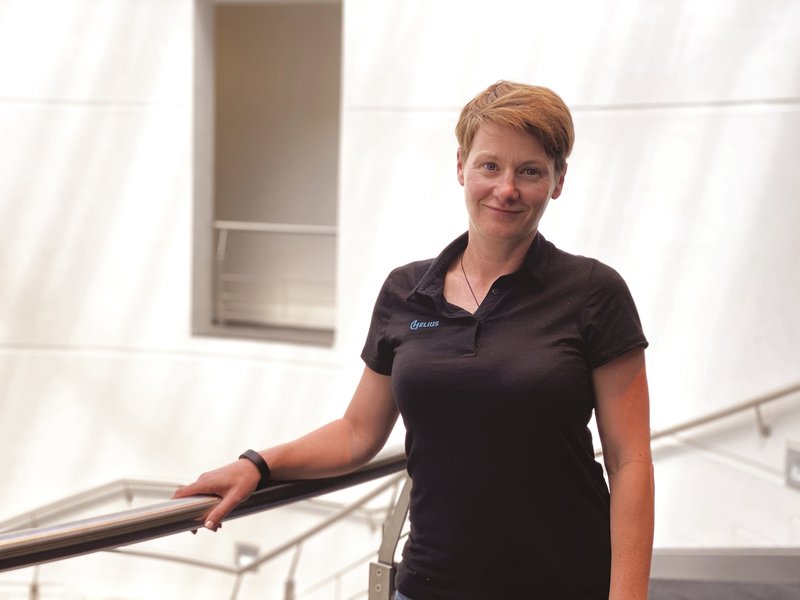 The company has a 8,800m2 site in East Tamaki where highly controlled cultivation, extraction, manufacturing and packaging processes, along with analytical and research and development labs, take place under one roof.
While locally made products have been available since October 2021, Carmen acknowledges there is still some resistance from the medical profession to prescribe medicinal cannabis.
"Some doctors are against it, some are strong proponents, but there are many who just don't know enough about it. The endocannabinoid system in our bodies was only discovered about 30 years ago so our focus is also on education for health care professionals."
She says demand is being driven largely by the public who request it from their doctors.
When Carmen is not overseeing the development of our medicinal cannabis industry, she's wearing overalls in a pit stop.
"I used to race go-karts as a child and then, from the age of 15, was racing my Dad's Formula Ford," she says.
"We both raced at the same meeting and I went faster than him, and his friends told him he either should never let me drive it again, or step back," she laughs.
More recently however, she's been on the other side of the pit wall.
"These days I work with drivers and crew to get the best performance and strategy out of car, driver and team. I'm in the workshop, on the radio, or giving strategic advice and insights as to what's happening in the race."
She and driver Debbie Chapman took out the 2020 South Island 1 Hour Endurance Championship for their class.
Carmen says car racing management is not so different from being a CEO.
"After the race I'm downloading the data from the cars to find ways to improve the car, or the driving style. We are always looking for ways to get better. There are a lot of analogies between car racing and business, using data, stepping back, developing strategy, and always trying to move and improve."
Carmen says she thrives in areas of change, start-ups and new tech, and her CEO role involves all of this. and even the problems and challenges in this new area excite her.
Helius is collaborating with University of Canterbury biomedical, mechanical and mechatronics engineering students, supervised by Distinguished Professor Geoff Chase DistFEngNZ, to assess how accurately stress, anxiety and chronic pain can be measured using wearable devices. Geoff says this collaboration seeks to potentially create a significant advance on the objectivity of measurements that can be made in clinical drug trials where cannabis would be effective.