By Rachel Helyer Donaldson 26 Jun 2022
The establishment of the first campus marae in Aotearoa, Victoria University of Wellington's marae, was seen as brave and radical in 1986. In 2018, the University adopted Te Herenga Waka as its official te reo Māori name. And now the University's marae precinct is undergoing an ambitious redevelopment to become the Living Pā.
What is it?
A multi-purpose space for teaching, learning and research for Te Kawa a Māui (the School of Māori Studies) business units and collaboration spaces for staff from other facilities.
The ground floor, complete with a wharekai (dining hall and cooking area) will play host to visitors and community events.
Building users can monitor energy and water consumption via visual displays. The roof will be covered in photovoltaic panels to harness the sun. It will also collect rainwater for the building's entire water system.
---
Can we shift our behaviours and adapt in a space that forces you into being more conscious? – Rawinia Higgins
The first Professor of Māori Studies, Sir Hirini Moko Mead (Ngāti Awa, Ngāti Tūwharetoa, Ngāi Tūhoe, Tūhourangi) saw the marae and the wharenui (meeting house), Te Tumu Herenga Waka, as a "living lab" for staff and students to be Māori and practise their culture and language. Buildings like wharenui have always been teaching spaces, says Professor Rawinia Higgins (Ngai Tūhoe), the university's Tumu Ahurei/Deputy Vice-Chancellor, Māori.
"Students get to apply the knowledge they learn in their lectures in real time, and practise culture, in a real situation and in a culturally safe space."
The current redevelopment of the university's marae precinct builds on Professor Mead's original vision, says Rawinia. But the new building will be equally ambitious. Five colonial villas, which once obscured the wharenui, have made way for the Living Pā – a purpose-built, future-focused living lab which seeks to bring together both mātauranga Māori (Māori knowledge) and sustainability practices.
The Living Pā will be built applying the Living Building Challenge (LBC), an internationally recognised, highly rigorous framework for zero-emission regenerative buildings. The LBC's guiding principles fit with the kaupapa of te ao Māori (Māori world view), says Rawinia. Concepts such as equity, health and happiness resonate strongly with the ideas of manaakitanga (showing love and compassion) and kaitiakitanga (guardianship).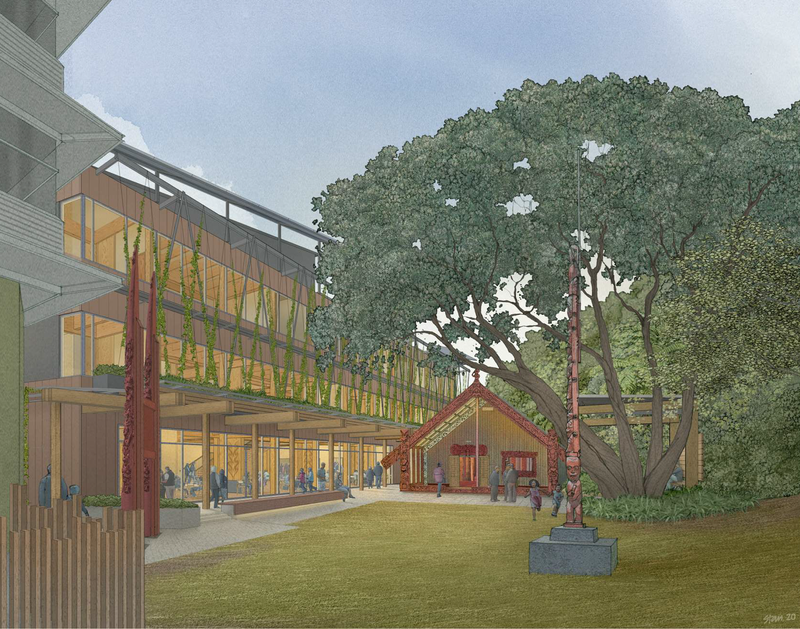 "More than just a building"
As a living building, the Living Pā "is more than just a building", says Rawinia. It's also about building a community. The Living Pā talks to the tikanga (values) of Te Herenga Waka as a global-civic university that "brings people together for common knowledge purposes". A pā offers people a safe space to experience and apply knowledge. Meanwhile the building's expansive glass panels will allow the marae and wharenui to be seen from the main street.
The LBC makes people think about the resources they are using, and "pushes people outside their comfort zone", Rawinia adds.
"Can we shift our behaviours and adapt in a space that forces you into being more conscious? Just like in the wharenui, you get to experience that in real time."
Making the world better
The LBC represents a "whole paradigm shift" for the industry too, says structural engineer Alistair Cattanach FEngNZ CPEng IntPE(NZ), director of Dunning Thornton Consultants. It's a much more ambitious benchmark than a "green" building.
"There are diffferent green building formulas about how to be 'less bad' when you build. Under the Living Building Challenge, the world should be better when you're finished."
An integrated engineering design is crucial to meet the LBC's stringent standards, says Alistair.
Environmental engineers eCubed are doing the building services engineering. They've designed passive ventilation and a three waters system that captures enough rainwater for all drinking water. Greywater is recycled throughout the Living Pā (used in planters and for flushing toilets). Any surplus is transferred to an adjacent building.
For Dunning Thornton, meeting the LBC mainly involves focusing on the materials used. The design uses minimal steel and concrete and aims to minimise the building's carbon footprint. Ultimately, the aim is the Living Pā captures, and puts into storage, more carbon than is emitted as CO2 during the building process. To achieve this, engineered wood products (comprising mostly local pine, much of which will be grown in iwi-owned sustainable forests) are used extensively throughout the building.
Timber technologies have advanced considerably in the past decade, says Alistair, and high-tech cross-laminated timbers (CLTs) feature strongly throughout the design. Its timber frame is made from a combination of laminated veneer lumber (LVL) and CLT, designed by Dunning Thornton. It can be easily modified, potentially reducing large-scale waste, and uses low-damage seismic technology. The Living Pā will be built to seismic Importance Level 3, with steel dampers placed throughout to help absorb earthquake energy.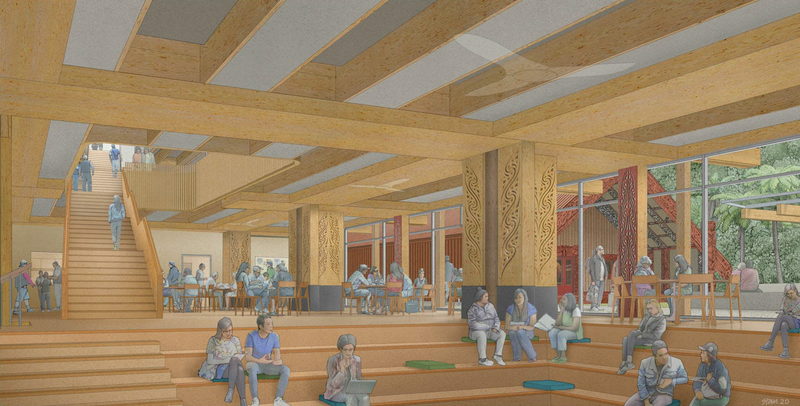 One of the biggest engineering challenges is creating a living building, within budget, in a high-density environment.
"People know how to do an off-grid building in the middle of nowhere, but to do it in the middle of a city is pretty challenging."
He says there are "all sorts of pressures" on the project due to the pandemic, such as inflation and resource shortages.
The Living Pā is an example of engineering making a difference from the top down and bottom up, he adds. The LBC requires people to use sustainable products and includes changing the habits of subcontractors. He says the Living Pā will also be "a showcase for sustainability".
Rawinia is proud of the way the building's kaupapa has "galvanised and invigorated" the whole university. There's a sense of pride among Māori staff and students, but also staff and students from across the faculties who use the Living Pā in their learning. An extensive engagement process tapped into the institution's knowledge capital. Both the university's leadership and the project teams are committed to overcoming resource challenges and seeing the project through.
Alistair agrees. He says teamwork is what he's most proud of.
"Rawinia came up with a vision, and everybody who's on the project believes in it. It's challenging but it motivates you to get through anything."
Under the Living Building Challenge, the world should be better when you're finished. – Alistair Cattanach
---
Just 30 buildings worldwide have received LBC full certification, including Te Kura Whare, developed by Ngāi Tūhoe, in the Bay of Plenty.
Budget: $45 million
Size: 3,000m2 and three storeys
Timeframe: Due to open early 2024