Beneath crystal waters on the edge of an atoll 11,000 km away from Auckland sits a Kiwi-designed and engineered underwater restaurant. Built in New Plymouth and shipped to the Maldives, it's the brainchild of Mike Murphy – who almost got to retire.
Mike Murphy MIPENZ was set to retire last year when his telephone rang with a tempting offer. Mike, 67, was responsible for the world's first wide arch underwater restaurant 11 years ago, set beside a coral reef in the Maldives. This call was also from the Maldives. A potential client was building a five star island resort and envisaged an underwater restaurant as the crowning glory. It would be like that first restaurant (known as "Ithaa") – only bigger and more challenging. How could he refuse?
"We'd learned a lot from that first one," says Mike, who established his Auckland-based civil and structural engineering firm M.J. Murphy Ltd back in 1980. "I liked the thought of putting those lessons into practice on a similar project." His first order of business was to contact Jackson Engineering Advisers and Origin Fire Consultants, who had handled respectively the air conditioning design and fire engineering on the first restaurant. Jacksons pulled in LHT Design, from Hastings, for electrical design, and Mike engaged Stuart McKechnie of SM Architects in Auckland for the interior design. Then he hopped on a plane.
Exact measurements
Huravalhi Island is quintessential Maldives, a low-lying, white-beached atoll set in crystal waters. In just 15 months, the client, Champalars Holdings, had transformed Huravalhi from an empty island into a five star resort. The proposed site for the restaurant was at the edge of the reef, to be linked by a walkway jetty, on which is also built an above-water lounge bar, with kitchen, toilets and aircon plant room.
On site, Mike took a raft of measurements, starting with water depths from mean sea level. "That was to define the design depth of the underwater restaurant and hence the geometry of the support piles," he explains. "If the cantilevered piles get too long, they become more flexible, which is not what you want." He also measured maximum tidal range, tidal currents and maximum storm wave heights.
The first restaurant (a top three finalist for the 2006 New Zealand Engineering Excellence Innovator of the Year Award) had been threatened by the devastating 2004 tsunami. The likelihood of a similar disaster imperilling Huravalhi could not be dismissed. In comparison with Ithaa, it was agreed the jetty height (hence stair height) would be raised from 1.9m to 2.7m above mean sea level. The new restaurant would also be sunk lower in the water – a full 2.4 metres from mean sea level to the top of the restaurant's acrylic arches.The bonus was it allowed for a better view of the coral. "Of course it meant much greater water pressure on the structure, especially the arches and windows," says Mike. "The thickness of the arches was increased from 100mm to 130mm for Huravalhi."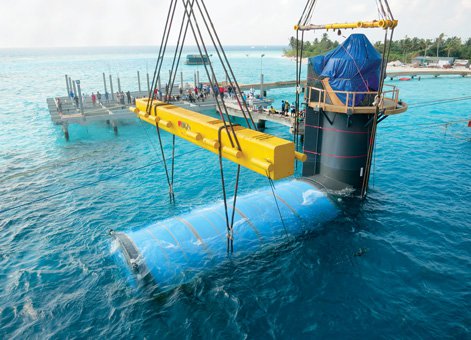 Home grown
Back here, New Plymouth-based Fitzroy Engineering was engaged as the main contractor. Singaporean company Hong Hock Engineering had constructed the first restaurant and were in contention. But Fitzroy clinched the job on the strength of having recently transported a 600 tonne structure by road to the port. They also had access to a huge crane ship that could easily lift the proposed 18m long by 5.4m wide, 410 tonne restaurant. Even better, that ship's carrying capacity meant the restaurant structure could be pre-filled with all required ballast before it left New Plymouth, allowing for a quick sinking operation at the site.
And so to the design and build. Steel was the only realistic option, strong and efficient but also of high density. Mike explains: "A floating structure is ruled by the Archimedes' Principle: buoyant upthrust is equal to the weight of water displaced. The object of the game is to reduce the volume so you can reduce the weight. To do this most efficiently one uses very dense materials like steel. In this project we purposely used very thick steel plates and heavy-walled steel members to reduce the weight required to sink the restaurant."
Mike designed the structure in close collaboration with the various parties. He would draw preliminary concept plans by hand, get approval from the client, revise, then consult Fitzroy and others for their input, before revising again. He describes the process, from start to finish, as remarkably smooth. "Jobs like this are rare," he says. "It was a prestige project and everyone was keen to be at their best."
This isn't textbook stuff
Which is not to say there weren't challenges. Fitzroy Engineering's Adrian van't Hof, who project managed the build in New Plymouth, highlights a couple of tricky aspects. One was paint. Being a steel structure for a marine environment, the restaurant required a top class paint coating system plus a system of zinc or aluminium anodes to stave off corrosion. "It involved quite a few different painting systems," says Adrian. "The sheer number of different specifications for different needs – corrosion and fire rating, for example – made it difficult."
The acrylic arches and windows were fabricated in Japan by Nippura; the steelwork and timber work in New Plymouth. "They all had to come together exactly to form one module," Adrian explains. "There was quite an effort to make sure these were correct."Lance Jimmieson and his senior engineer Jonathon Haines handled the air conditioning design for Jackson Engineering. As mentioned, Jacksons were involved in the first restaurant, which Lance describes as a major learning curve. "It's not textbook stuff," he says, adding that even though the restaurant lies under water, warm water temperatures and sunlight through the water means it still requires a fair bit of cooling. "We're quite good at calculating solar loads coming into buildings, but calculating it through salt water and then through curved acrylic arches under water is a different story. It was back to fundamentals, to devise a method to how we might work it out."
The system they designed was fabricated by contractors Aircool. It uses a seawater-cooled chiller to cool air. From the aircon plantroom above, cool air is fed down the centre of the staircase. It's then distributed under the floor to grilles along the perimeter of the restaurant, before being returned up the stairwell for reconditioning. "One of the characteristics of a project like this is a huge amount of detail," says Lance. "The finished product looks simple, but it only comes after hours of discussions, pushing ideas backwards and forwards – all in the name of getting a great result."
Unique cargo
In March, the massive Dutch-registered crane ship MV Fairlane arrived at Huravalhi Island with its unique cargo. The structure was gently lowered by two cranes as divers guided its eight legs into the waiting piles. Concrete was then pumped in to secure the restaurant.
How long will it last? Mike says the first restaurant has recently shown some minor bubbling in one painted area, which leads him to suspect an initial prediction of 15 years before the need for major maintenance is about right. But that's not a concern right now. The restaurant is still to be fitted out, with a likely opening date in our winter. When those first diners walk down the spiral staircase, it will be a special experience. Architect Stuart McKechnie, who did the interior design, says the intent was to promote a sense of journey, of anticipation followed by delighted surprise.
Meanwhile, Mike Murphy has had three other enquiries for underwater structures, all from the Maldives. So what about that retirement? "I'm going to keep going," he says.