By Cindy Jemmet 12 Apr 2022
In the first half of the 20th century, serving as an Air Force pilot provided the impetus and opportunity for many Kiwis to learn to fly. While many completed their training overseas, two schools in New Zealand offered training. Established by individuals with a passion for flight, these schools pioneered pilot training in New Zealand and supported the later establishment of the Royal New Zealand Air Force, which celebrates its 85th anniversary in April.
As soon as overseas attempts at flight were making headlines, New Zealanders were keen to try their hand. As early as 1903, inventor Richard Pearse designed and built a high wing monoplane on his Canterbury farm. The frame of the plane was bamboo and the wings were covered with canvas. Special features included wing flaps, rear elevator, a steerable nosewheel and a propeller with variablepitch blades. The plane's double-acting, horizontally opposed petrol engine was also of his own construction and design. While he did become airborne, it is uncertain whether he achieved controlled, sustained flight.
In Auckland, brothers Leo and Vivian Walsh built their first plane in 1911. The aircraft achieved short demonstration flights of a few hundred metres. The Walsh brothers' more successful venture was their pilot training school at Kohimarama. From 1913, they began building a seaplane. They made their first official flight on 1 January 1915 and opened the flying school later that same year. The seaplane they had built proved unsuitable for training, so they imported a Curtiss seaplane from Canada. They also designed four other seaplanes, and the school's boatbuilders completed the construction. In a special arrangement, the British Royal Flying Corps issued pilots trained at Kohimarama with an aviator's certificate.
In Christchurch, aviation enthusiast, Henry Wigram, who was eventually knighted for services to aviation, followed the Walsh brothers' lead. Unable to secure government backing for a flying school, he established his own: the Canterbury (NZ) Aviation Company, in 1916. Henry imported Caudron biplanes from Britain and had a further 10 aircraft built at the school's airbase at Sockburn.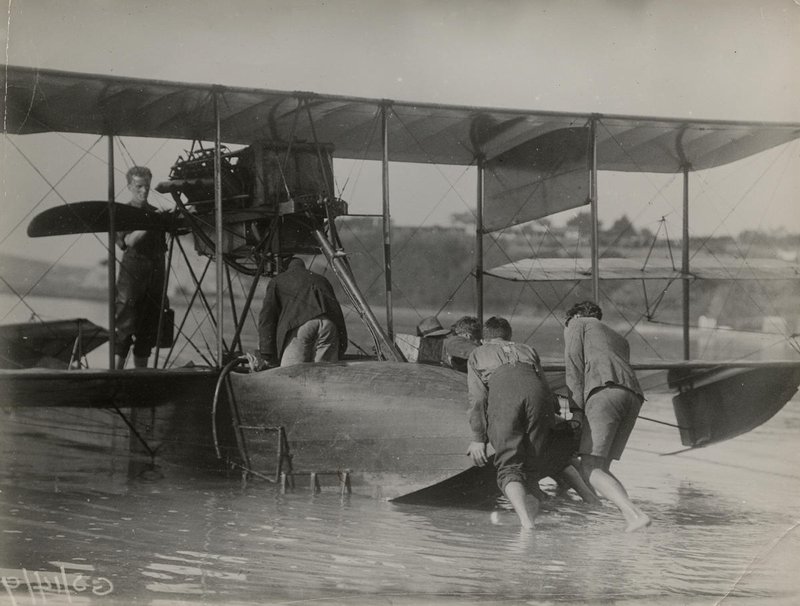 By 1919, the two schools had trained more than 250 pilots between them, almost all of whom had gone on to serve in WWI with the Royal Air Force in England. Celebrated pilots who received their first training at Kohimarama include WWI air ace, Keith Caldwell CBE and prominent New Zealand aviator George Bolt OBE. George was first a mechanic and later Chief Pilot at Kohimarama and went on to a career in civil aviation. He also served during WWII as chief engineer for the Royal New Zealand Air Force.
Following WWI, the Walsh brothers sought government funding to continue to operate their school and to run an airmail service, but this was denied. Unable to make the venture financially viable, the brothers closed the school in 1923.
In Canterbury, Henry Wigram contributed much of his own money to keep the flying school running. In 1923, the government established a small air force of 11 administrative and training staff and 100 part-time volunteers, most ex-WWI pilots. Henry donated a further £10,000 and the government then agreed to take on the Canterbury (NZ) Aviation Company's liabilities and to run Sockburn as its base for the newly formed New Zealand Permanent Air Force.
Henry turned his attention to recreational flying and helped to form the Canterbury Aero Club in 1928. Many aero clubs formed around the country from the late 1920s. In the 1930s, as war in Europe looked increasingly likely, the government supported these clubs with the loan of aircraft and funding to train pilots for the Air Force. The Royal New Zealand Air Force was formally established by an Act of Parliament as an independent military service in 1937.
New Zealand's first forays into military and civil aviation owe much to the enthusiasm, investment and innovation of these early engineers and pilots who put their energy into teaching others and building local expertise, both through the two schools and later through regional aero clubs.
In the present day, particularly before the onset of the Covid-19 pandemic, air travel could be described as commonplace, and we face the challenge of carbon emissions. This is the new imperative to which New Zealand engineers can again apply their spirt of innovation and collaboration.
---
Author Cindy Jemmett is Heritage Advisor at Te Ao Rangahau.