We'll help you through the Chartership process – from adding your work and CPD records to completing the self-assessment and understanding how we define engineering complexity.
Read more on getting Chartered
Our process
If you're completing a Chartered assessment or a CPEng reassessment, your application will go through all five stages of our process.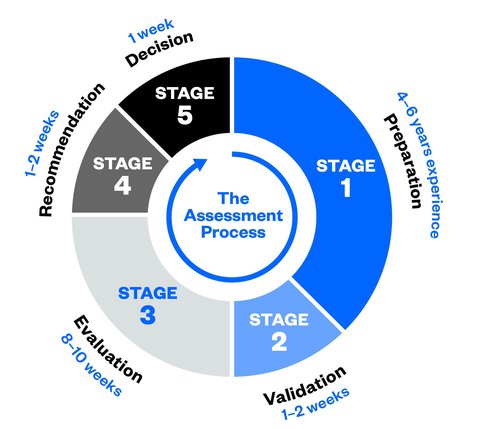 Stage 1: Preparation – over 4–6 years you'll accumulate enough experience to be ready to apply for Chartership, then you'll put together your application online.
Stage 2: Validation – once you submit your application, our team will review it over 1–2 weeks and let you know if you need to make any changes.
Stage 3: Evaluation – once finalised, an assessment panel will be assigned to you and they'll review your application over 8–10 weeks.
Stage 4: Recommendation – the panel makes a recommendation to the Competency Assessment Board (CAB) on whether to approve your application.
Stage 5: Decision – a final decision is made on the success of your application.
Before you start
Make sure your work and CPD records are up to date.
Get familiar with the assessment criteria.
Talk to people who have been through the process before.
Top tip: write in the first person, eg 'I' or 'me'.
Assessment guidance