We'll help you through the Chartership process – from adding your work and CPD records to completing the self-assessment and understanding how we define engineering complexity.
Read more on getting Chartered
Our process
If you're completing a Chartered assessment, your application will go through all six stages of our process.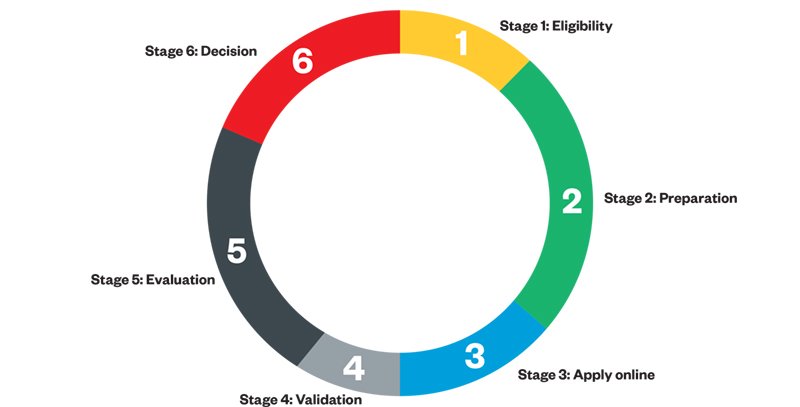 Stage 1: Eligibility – To be eligible to apply to be a Chartered Professional Engineer, you must have a Washington Accord-accredited qualification (in New Zealand this is an accredited 4-year Bachelor of Engineering (Honours)) or be able to demonstrate equivalent knowledge.
Stage 2: Preparation – It usually takes between four and six years to gain enough experience to be ready to apply for CPEng. To meet the minimum standard for registration, you need to demonstrate that you're able to practice competently in your practice area to the standard of a reasonable professional engineer.
Stage 3: Apply online – Engineering New Zealand carries out first-time Chartered assessments during defined periods throughout the year. The list of applicants in upcoming assessment rounds is published on the Engineering New Zealand website.
Stage 4: Validation – One of our Competence Assessment Advisors will check the information you've provided and will aim to give you feedback within 10 working days. They'll let you know if you need to make any changes before your application is sent to an Assessment Panel.
Stage 5: Evaluation – Once your application is finalised, an assessment panel will be assigned to you. They'll review your application over 8–10 weeks and as part of this, may meet with you to discuss it as well.
Stage 6: Decision – Your advisor will let you know the proposed outcome of your application. If successful, your name will appear on our Find an engineer public register. If your application is unsuccessful or the CAB made an alternative decision, you'll have the opportunity to respond. 
Before you start
Make sure your work and CPD records are up to date.
Get familiar with the assessment criteria.
Talk to people who have been through the process before.
Choose the practice field(s) you would like to apply for (insert link to new Practice Fields page)​
If you are registering for CPEng in the Structural or Geotechnical practice fields, as a Recognised Engineer, or as an Engineering Geologist, ensure you familiarise yourself with the relevant Body of Knowledge and Skill (BOKS) and ensure your application is aligned with the relevant technical requirements. 
Top tip: write in the first person, eg 'I' or 'me'.
Guidance documents
If you're applying for a first time assessment or a reassessment, you can use the guidance documents below to help with your application. There's specific guidance for you if you're a structural engineer, engineering geologist or academic. 
Webinars
We will be hosting a number of webinars in 2024. If you're wanting to apply to become a Chartered Professional Engineer, we will be hosting a series of online webinars in the new year:
There will also be a webinar aimed at engineering technicians and technologists looking to go through a Knowledge Assessment as their first step towards registering as a CPEng:
For current registrants due for reassessment in 2024 we will be hosting webinars to update you on expectations for reassessment applications:
In the meantime, you can check out recordings of the most recent 2023 webinars here: