The Waihao River Box Culvert was built in 1910 to replace an earlier 1896 structure located two kilometres to the north.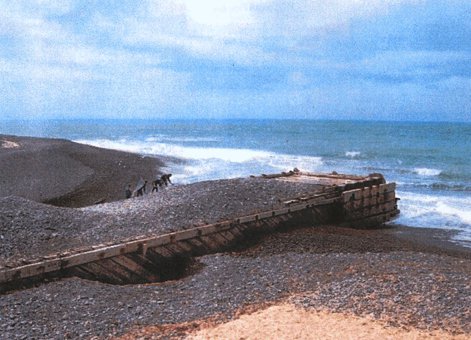 Because there is no permanent river mouth to the Waihao catchment, the strongly-built timber box culvert prevents the shingle barrier from completely blocking the Waihao River. Therefore, the box culvert assists with drainage and reduces the risk of flooding.
A mixture of greywacke sand and coarse gravel forms a steep barrier beach that protects the Waihao and Wainono Lagoon system and the low-lying hinterland from the sea. This material is the result of erosion of the coastal cliffs to the south and the Waitaki River, transported north by the prevailing southerly swell.
During storms the beach is often overtopped and beach sediment pushed inland. The coast here is retreating on average about half a metre per year. Coarse sand and gravel slip down the banks beside the box culvert as the water is flowing. Sand and gravel is often full of water and moves a lot, creating very dangerous and hazardous conditions.
The structure is managed by Environment Canterbury and its maintenance is financed through rating contributions from local farmers, general rates, the Works and Services Rate, and an annual contribution by the Morven Glenavy Irrigation Company.
Heritage recognition
This place has been recognised by Heritage New Zealand as a Category 2 historic place (List no.5428):
Waihao River Outlet Box: New Zealand Heritage List/Rarangi Korero information.
---
Find out more
Access
Follow the road from State Highway 1 at the signpost to Willowbridge.
Close inspection of the box culvert is NOT RECOMMENDED as the surrounding area is prone to movement and people have been injured as a result.
Location
Approximately 8km from State Highway 1, east of Waimate, South Canterbury.